Entertainment
Social Media Queen: Deepika Padukone's game is stronger than Priyanka Chopra
Deccan Chronicle | DC Correspondent
Published on: October 25, 2017 | Updated on: October 25, 2017
Deepika Padukone just proved that her fan base on social media is bigger than Priyanka Chopra.
Deepika-Priyanka were seen sharing screen space in Sanjay Leela Bhansali's period drama Bajirao Mastani (2015).
Mumbai: Social media is an ultimate showcase of power for a celebrity. It is nothing less than a battleground these days where a war is fought almost every day. Two Bollywood beauties, actress Deepika Padukone and Priyanka Chopra who are on their ways to make big in Hollywood have managed to create a solid fan base for themselves. But seems like Deepika's fan following is bigger than Priyanka.
Deepika's already winning on the battleground of social media against her Bajirao-Mastani co-star Priyanka Chopra with larger numbers of followers. Be it Facebook, Twitter or Instagram, the reigining queen Deepika is already on the top in terms of followers and has beaten the Quantico actress by a sizeable margin.
Check out the comparative stats here: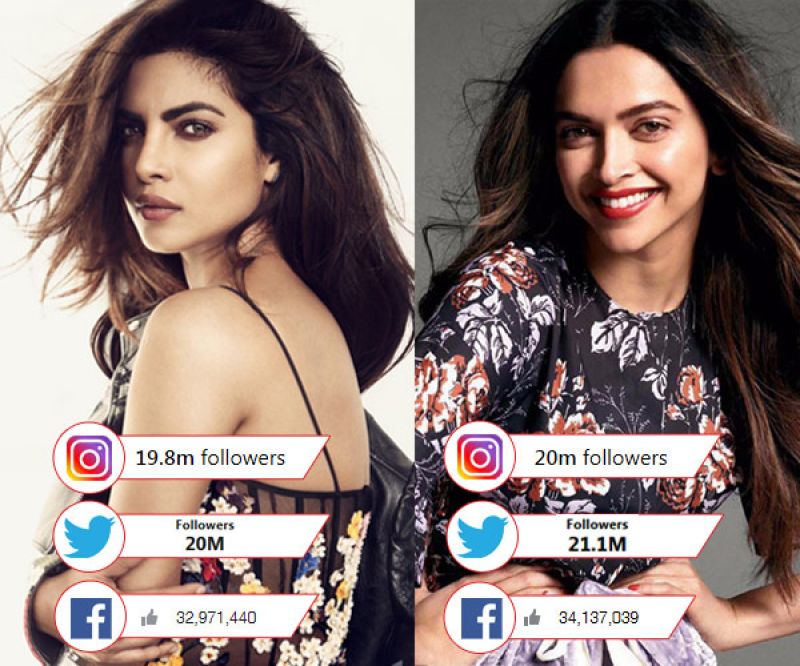 This stats reveals that Deepika's position is more powerful than Priyanka.
The Padmavati star, Deepika Padukone was elated to realise that she has crossed the 20 million mark on Instagram. She took to her Instagram account to share a cute boomerang video of herself thanking all her fans and followers for their love.
With such staggering numbers of followers on social media, Deepika not only managed to beat Priyanka Chopra but also other contemporaries like Sonam Kapoor, Katrina Kaif, Alia Bhatt, Jacqueline Fernandez and among many others. Cheers to the new social media Queen of Bollywood!
Latest News
Most Popular
Columns