Mumbai: Putting behind the torrid times since his conviction in the 1993 Mumbai blasts case, Bollywood actor Sanjay Dutt today walked out a free man from the Yerawada Central prison here after being granted remission in his five-year sentence.
A smile lighted his face as the 56-year-old actor, clad in a blue shirt and jeans, stepped out and walked briskly toward a waiting car outside the prison, waving to onlookers. Looking in good health, he enthusiastically carried in his hands a 'khaki' bag containing his belongings and a green coloured file that apparently contained his prison record.
A sense of dramatics crept in as he turned back and saluted the tri-colour atop the prison building and bent to touch the soil in full media glare.
Waiting for him inside the car were his wife Maanyata and friend and producer of blockbuster 'Munnabhai' Rajkumar Hirani as he drove to Pune airport to take an onward chartered flight to Mumbai.
Speaking to reporters outside the Pune airport, the actor quipped that "There is no easy walk to freedom my friends".
According to Sanjay Dutt's pre-planned day-long-schedule, he reached Siddhivinayak Temple in Mumbai to seek Bappa's blessings. He was received at the temple with a huge gathering of fans.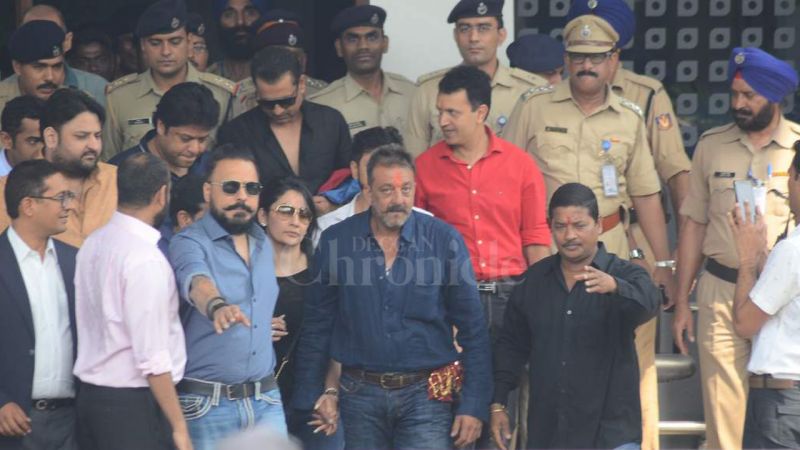 Sanjay Dutt with wife Manyata at Mumbai airport. (Photo: Viral Bhayani)
After praying with his family, the 56-year-old actor got into a car without uttering anything and headed towards Marine Lines to seek blessings at his mother Nargis Dutt's grave.
Fans gather as Sanjay Dutt reaches Siddhivinayak Temple in Mumbai (Photo: Viral Bhayani)
On reaching home, Sanjay seeked blessings from his father Sunil. He is expected to come back down and speak to the media about his return.
Controversies continued to dog him for his leave of parole and furlough as his critics and detractors alleged that the actor had been given "special treatment" that led to his remission and a curtailed stay in prison.
Before Sanjay's release this morning, a handful of protestors too had raised slogans in front of the prison protesting alleged the preferential treatment meted out to him by the authorities. Prison authorities and his lawyers, however, refuted the allegations saying that his remission of 144 days and his parole leave was in accordance with jail manual and prescribed rules.
Sanjay was arrested on April 19, 1993, for possession and destruction of an AK-56 rifle, which was a part of cache of arms and explosives which landed in India prior to the serial blasts of March 1993.
During the investigation and the marathon trial, he spent 18 months in jail. On July 31, 2007, the TADA court in Mumbai sentenced him to six years' rigorous imprisonment under the Arms Act and imposed a fine of Rs 25,000. In 2013, the Supreme Court upheld the ruling but reduced the sentence to five years. During his imprisonment, he was granted parole of 90 days in December 2013 and again for 30 days later.
...