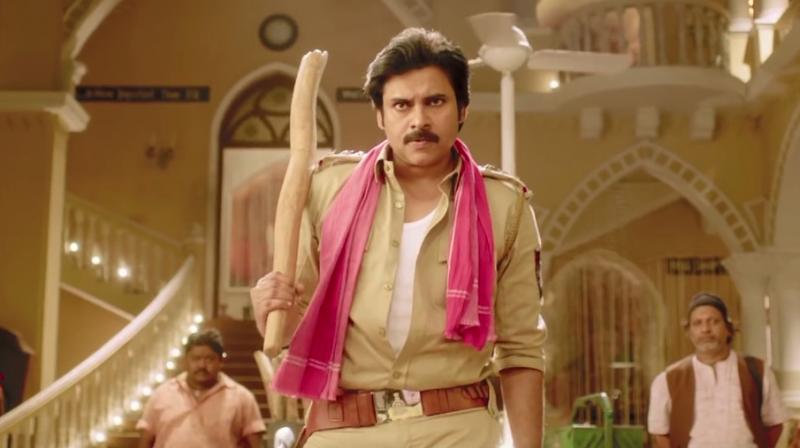 Pawan Kalyan, the iconic Chiranjeevi's younger brother, is a huge Telugu star with the clout to change the way audiences look at popular entertainment in Andhra Pradesh.
But Pawan, God bless his massy mojo, seems content providing crass commercial content to the hungry masses. He now makes his foray into Hindi cinema with 'Sardaar Gabbar Singh', the sequel to the Pawan's 2012 hit 'Gabbar Singh' which saw him playing the bumbling comic cop for the first time. The cop Gabbar is unmistakably inspired by Salman Khan's 'Dabangg' act. To remind us of how close Pawan's Gabbar was to Salman's Chulbul Pandey there was an item song by Malaika Arora in 'Gabbar Singh', as there was in 'Dabangg'.
Pawan's fans loved it. This time Pawan gets bolder with an even more blatant homage to Salman's Chulbul. 'Sardaar Gabbar Singh' takes Pawan's comic cop-shot to an imaginary princely kingdom named Rattanpur terrorized by a zamindar named Bhairav Singh (Sharad Kelkar, Sonu Sood has moved from Andhra to Hollywood). 
Pawan enters halfway through the trailer, his arrival announced by the visual version of bugles. This guy is clearly in it for the heroics of Salman Khan. That seems a bit of a shame. I don't see Bollywood audiences warming up to Pawan's Dabangg act. Besides, why would a star of his stature want to enter Hindi cinema as a wannabe Salman?
The trailer of the film directed by K S Ravindranath looks like a Hindi film made in the 1960s by one of the Chennai-based studios like AVM Studios and Gemini Films which specialized in princely potboilers.
Lamentably Sharad Kelkar's antagonist act leaves a more robust impression than Pawan Kalyan's clumsy khaki-clad heroics.  
Oh yes, there is also Kajal Aggarwal as a princess whom Sardaar Gabbar Singh must rescue from the clutches of the cruel Bhairav Singh.
The two trailers  of the bi-lingual in Hindi and Telugu are identical in content except that in Hindi, Pawan Kalyan's voice is dubbed. In Telugu, Sharad Kelkar gets another voice. I also spotted the very talented Tisca Arora in for one shot,garishly painted and made-up to look like royalty.
This may work in Telugu. But the Hindi version of 'Sardaar Gabbar Singh' which is being released alongside the Telugu version with much fanfare on April 8, is a complete loser.
...