Mumbai: Singer Abhijeet Bhattacharya has become controversy's favourite child nowadays. He was recently arrested and released on bail for one of the comments he made against a female journalist on Twitter. He had also got involved in a spat with Sonam Kapoor during the controversy over Shobhaa De's comments on Indian athletes at the Olympics.
And this time, he has attacked Pakistan on Twitter after the shocking attacks on Indian Army soldiers at Uri in Jammu and Kashmir. He has singled out directors Mahesh Bhatt, Karan Johar and the 'Superstar Khans' for giving opportunities to talent from Pakistan.
He had gone on a rant against Pakistanis and even asked External Affairs Minister Sushma Swaraj and former ministers Salman Khurshid and Mani Shankar Aiyar why people of the neighbouring country were allowed to work here.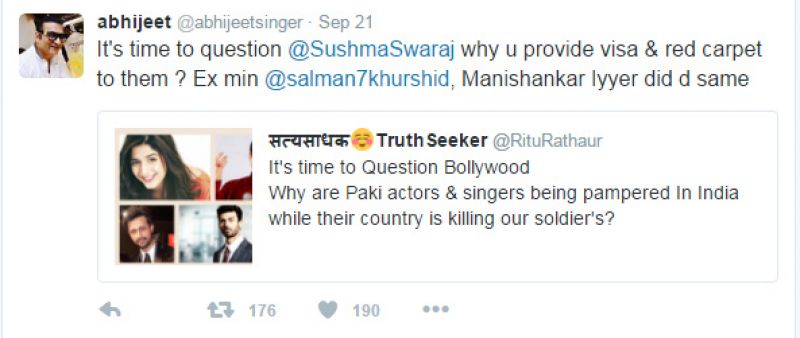 Let's see where this one ends.
...