Entertainment
Exclusive: Pulkit Samrat and Kriti Kharbanda get candid at Deccan Chronicle office
Deccan Chronicle| Shaheen Irani
Published on: February 21, 2018 | Updated on: February 21, 2018
Directed by Ashu Trikha, 'Veerey Ki Wedding' also stars Jimmy Sheirgill (again without a girl) in the lead role.
Pulkit Samrat and Kriti Kharbanda visit Deccan Chronicle office.
Mumbai: 'Veerey Ki Wedding' was the flavour at Deccan Chronicle's office recently, since Pulkit Samrat and Kriti Kharbanda visited, rather were chirpy and engrossed in a conversation with the team members at DC. It is the first time that the two performers are paired with each other, and like their on-screen chemistry, the two share a love-hate relationship even off-screen. They pull each other's legs but then they also respect and support each other. Their chemistry in real life, might as well translate in reel life, through the film 'Veerey Ki Wedding' (where Kriti plays a bride for the 8th time), which is slated for Holi release. The movie is directed by Ashu Trikha and it also stars Jimmy Sheirgill (again without a girl) in the lead role. Here are some excerpts from the interview: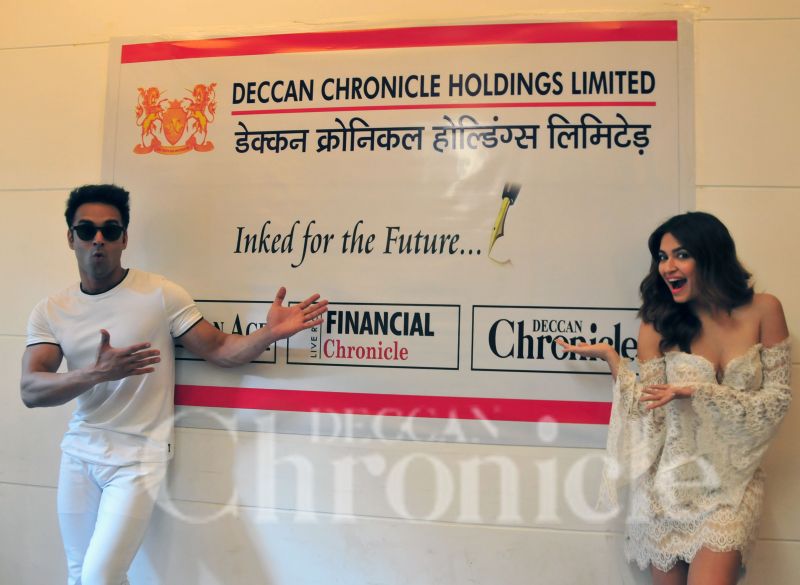 Pulkit Samrat and Kriti Kharbanda visit Deccan Chronicle office.
Tell us something about 'Veerey Ki Wedding'
Kriti: 'Veerey Ki Wedding' is a comedy of errors in more ways than one. It's one of those basic, perky comedies. We're not trying to give out a message or anything. The highlight of our film is that we have great songs.
Pulkit: And a good looking lead.
Kriti: *laughs* Okay and that. Pulkit and I have attempted a dance form Bachata from Argentina, which is slightly sensual and sexy.
There's another Geet. How do you compare them?
Kriti: Please don't compare. This Geet is not even 1% of that Geet. Geet in 'Jab We Met' was a character that was author-backed. Geet here is a regular girl and her loveable part is that she's extremely flawed. Veer and Geet together are a lethal combination. They love each other even when they hate each other.
The highlight of this film is also if Jimmy Sheirgill will find a girl or not in the trailer. We have made so much fun of him and he's taken that in his stride.
You have done a romantic film, then a comedy, then a romantic comedy. Are you moving to masala entertainers?
Pulkit: No I'm not. It's just that with the place I am in at the moment, I have the luxury to try different kind of genres. People won't judge me immediately. I enjoy every kind of genre.
How was it working with Kriti?
Pulkit: She has some kind of energy. Today also she went missing and I was like 'yeh chahal pahal kidhar hai?' She's a very good performer and dancer. She looks fabulous.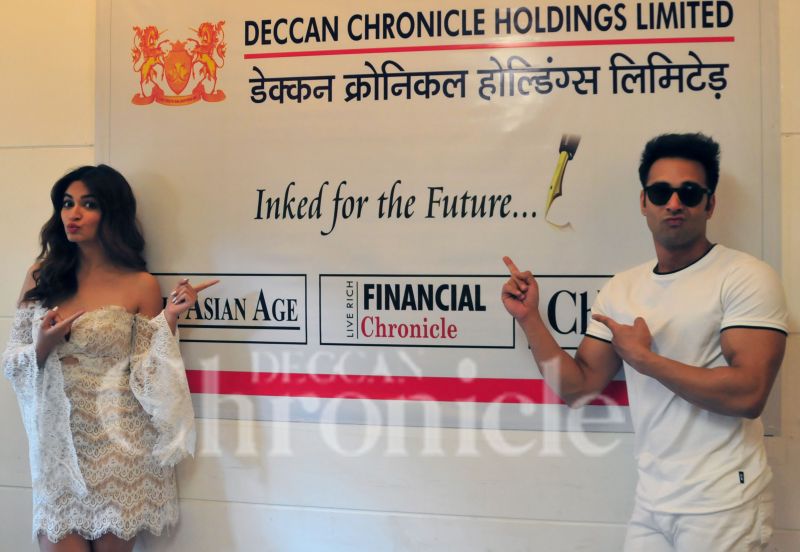 Pulkit Samrat and Kriti Kharbanda visit Deccan Chronicle office.
What happened with the rights of the title?
Pulkit: By the time we came on board, we already had the title. We did approach our makers and told them to make it 'Geet Ki Wedding' because they (Sonam, Kareena, Balaji) are seniors. But it's the producer's call, so we didn't bother as much. It's releasing also 3 months apart.
Many people know you…
Pulkit: That's because she eats so much.
Kriti: There have been days when I've told Karan (Gomber, co-producer) that chole-bhature isn't delicious at the location we're shooting. It so happened that on the same night Karan said 'ask Kriti madam what she wants to have for lunch tomorrow so we'll decide the location accordingly'.
Was it difficult to break the ice in Bollywood considering your graph down south?
Kriti: Honestly I'm still breaking the ice. I find it very hard to approach people. I take a very long time to open up and become friends with someone. I managed to meet a lot of people and work with a great bunch of people, but I've still not settled into the whole vibe of saying this is home. As much as I love being back in Bangalore, I feel like an independent soul here. I feel proud of myself and it's making me comfortable with what I'm doing here. It's only been a year and I've managed to have a fourth release. So for me that's a really big deal.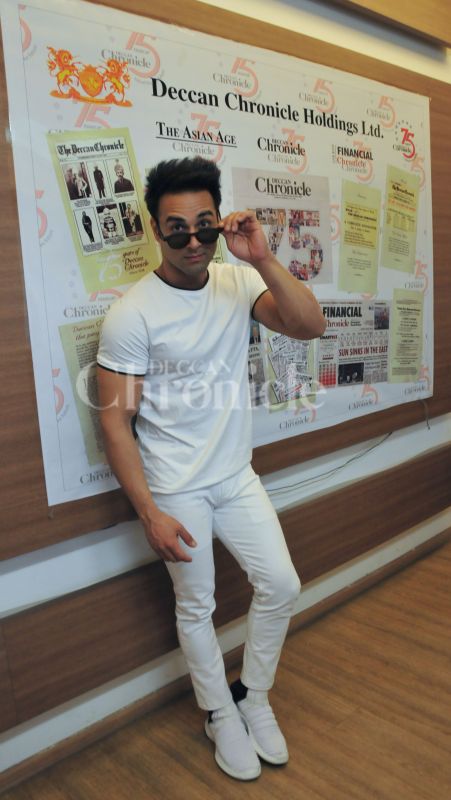 Pulkit Samrat and Kriti Kharbanda visit Deccan Chronicle office.
Apart from 'Fukrey' and 'Sanam Re', 'Junooniyat' did not work for you…
Pulkit: The songs in 'Junooniyat' worked for me. I have always taken a step forward and believe that slow and steady wins the race. The intention is to actually grow with the film. For me, that excitement to be on a set coming from nowhere, I really appreciate it. That's also how I connect with Kriti. It's a good learning experience. If a graph goes up and down, it doesn't hurt your heart or go to your heart, so that's a decent graph.
Kriti: Like he said, we don't have godfathers and we have to push for ourselves. There's no better feeling than being independent and doing for yourself. At the end of the day you won't blame anyone but yourself and that's that kind of blame you can live with. When you live at somebody else's responsibility, you start expecting too much and expectations are bound to crash at some point. I think we both are growing in our way and we're very proud because we never thought we would get where we are. I used to watch people on TV. I didn't think I would be sitting at an award function or giving out an award. It's unbelievable that I'm working in the same industry as Mr. Amitabh Bachchan and working with Mr. Dharmendra. I didn't think people would message me on Instagram saying they want to marry me.
What would you like to say about nepotism?
Kriti: I don't think it's as bad as it is made out to be. If my dad was supposed to handover a business, he wouldn't call up a neighbour's son for it, right? He would hand it over to my brother and that's only fair. If people here are doing it, there's nothing wrong with it. Both Varun Dhawan and Alia Bhatt proved their talent and how! They are one of the finest talents the country has. Being a star son is anyway not enough because many have tried their hand at it and it still hasn't worked. Maybe their first chance just comes as nepotism like people call it, but the second chance comes on their own because people will not throw them out for nothing.
Pulkit: This is like the IPL of the industry. You can pick fresh talent from here. You can see anyone everywhere. Even web-series get hoarding these days.
Kriti: There are so many internet sensations also. Newton also which didn't have big stars, went to the Oscars. Frankly, the industry is also very open to new talent.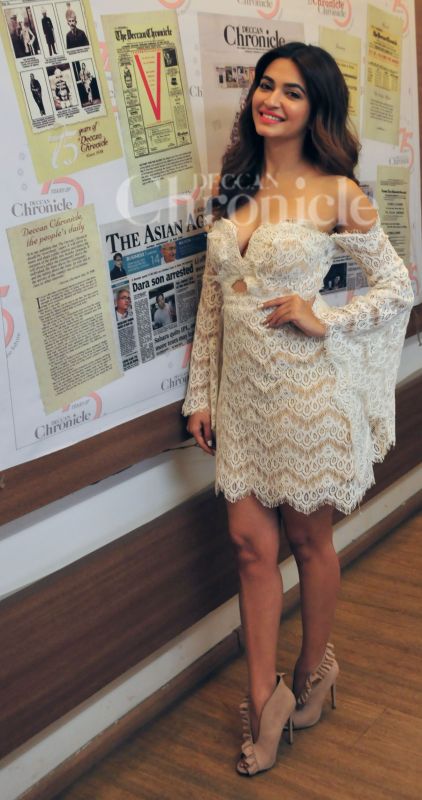 Pulkit Samrat and Kriti Kharbanda visit Deccan Chronicle office.
You bagged an ad with Sidharth. Do you think it was an opportunity for you to get noticed?
Kriti: Of course. It wasn't just an opportunity to be seen, but also be directed by Mohit Suri. It was probably one of the most beautiful experiences of my career. We did 23 changes in 4 days for 20 hours each day, which was really liberating. I always wanted to do short films, something which excited me because you see the product right then and there. I find myself very blessed that I got to work with Mohit more than anything else. He was the best thing about that for me. I really hope I get to work with him in the future.
So can we see you in 'Aashqiui 3'?
Kriti: Ask him. I have already told him that I want to work with him. They didn't have to spend a single rupee on glycerine. Because we were shooting in Bangkok, I didn't know we'll need glycerine. It wasn't in the script and I didn't think I'll be crying that much, but everyday I managed to cry. So I think Vishesh Films already knows that I won't need it.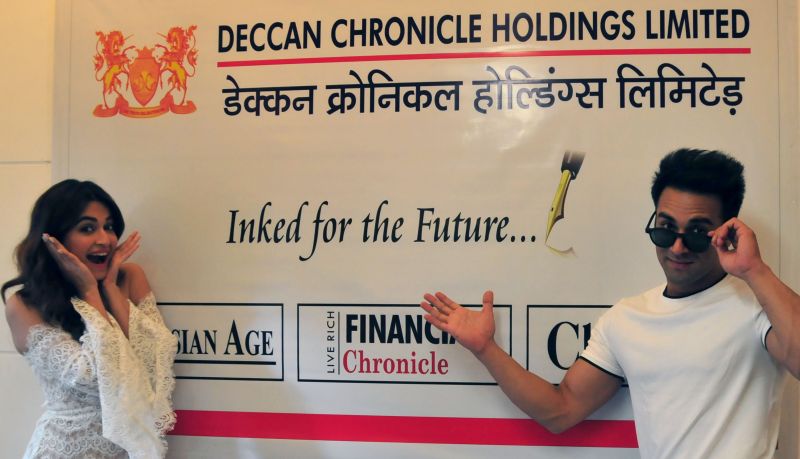 Pulkit Samrat and Kriti Kharbanda visit Deccan Chronicle office.
Is there any scene you feel uncomfortable with?
Pulkit: To say I love you on screen. That's because you never say I love you to impress someone. There's always an emotion. I can speak with the eyes, but I find saying 'I love you' very tacky. It's too mushy.
Kriti: How can you say that? I love saying I love you, and I hate it when people say love you.
Like in 'Fukrey', the balcony scene?
Yes, I took so many retakes for that. It was because me and Mrig (Mrigandeep Singh Lamba) both were of the idea that who says I love you? So then we figured out what to do, and what ended up was more honesty and innocence than saying I love you.
Deccan Chronicle also conducted a rapid fire round with these bunches of energy. In case you missed it, here it is:
Latest News
Most Popular
Columns