Entertainment
This film shot completely on iPhone was screened at the MAMI Film Festival
Deccan Chronicle| Dyuti Basu
Published on: October 19, 2017 | Updated on: October 20, 2017
Shlok Sharma talks about how a movie screened at the Los Angeles Film Festival motivated him to shoot Zoo on an iPhone.
Shlok Sharma's 'Zoo' stars Shweta Tripathi and Shashank Arora in lead roles.
"I hadn't really thought about it," seemed to be Shlok Sharma's favourite line for the evening when asked about his second feature film, Zoo, shot completely on an iPhone. The movie was screened at the MAMI Film Festival. "If you think too much before venturing into something of this sort, you'll never do it. So, I didn't think. I just jumped into it," confesses the director. "I had made my first film but it was stuck for four and a half years since there were issues with the release. So, it was either sit at home depressed or work. The problem was that I had no money. I'd once gone to the Los Angeles Film Festival where they screened Tangerine, a film shot with the iPhone 5s. So, I thought that I'd do the same," he adds.
The film, a hard-hitting depiction of young psyches trapped within the walls of their own homes, deals with more than just growing pains. We have Misha (Shweta Tripathi) — a guilt-ridden teenager, who seeks refuge in drugs, Bicky (Shashank Arora), a drug-peddler with a conscience and two young rappers Prince and Yoku, looking to change the world with their lyrics. The overall effect, as was rightly pointed out by an audience member, is "a likable film with 'unlikable' characters". "That's how reality is though. Not everyone is likable. I didn't really think too much about it, just went with what felt real," shrugs Shlok.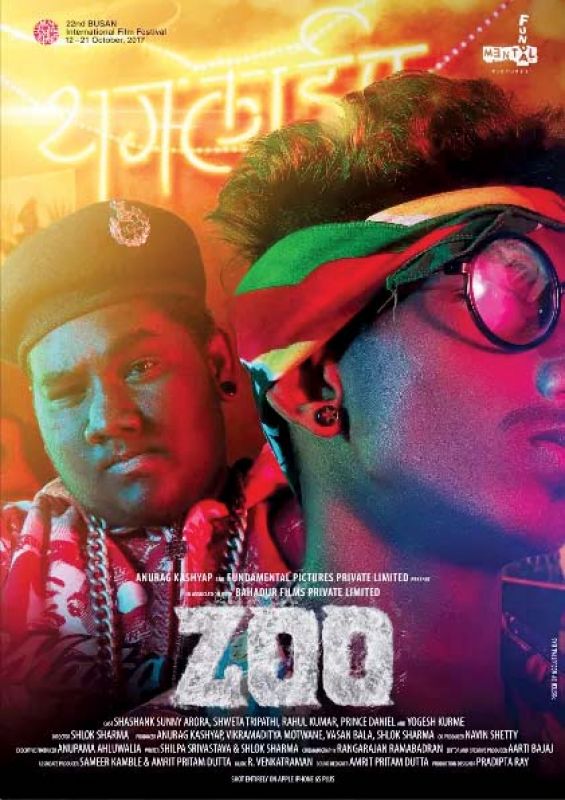 Zoo movie poster
Bicky and his brother don't cross paths with the rappers despite living in the same locality. "That's how it is in real life too. We live in the same neighbourhood and don't even know most of the people who live around us. So, despite staying in the same chawl, the rappers and Bicky don't meet," explains the director. The rappers depicted in the film are actually a rap duo from Dharavi, who belt out their English, Tamil and Hindi lyrics. Shlok recalls how he bumped into the duo when looking for ideas around Dharavi. "I just happened upon these two while I was in Dharavi one day, and what they were saying simply blew my mind. I tried to bring their thought into the film as much as I could," he explains.
With rap and music playing such an important role in the film, sound was something that had to be carefully handled and here's where sound director Amrit Pritam stepped in. "You can't see sound, so no one really questions it. I had to create an ambiance in the movie, so that the audience could move along with the character. I kept it quiet in Misha's apartment, while external sounds of conflict in places where the characters would face turmoil," he explains. Prince, who was present at the screening himself, explains the reasoning behind why the duo raps. "No one asks questions about what's happening around them. They just keep watching. So, we thought we'd ask them," he shrugs.
Latest News
Most Popular
Columns