Entertainment
'I shouted at him first time in 5 years': Kapil Sharma on fight with Sunil Grover
Deccan Chronicle | DC Correspondent
Published on: March 19, 2017 | Updated on: March 20, 2017
The comedian-actor had a trademark response to reports that he beat his co-star up recently.
The comic timing of Kapil Sharma and Sunil Grover on 'The Kapil Sharma Show' is a hit with the masses.
Mumbai: While the news of Kapil Sharma finally revealing his ladylove Ginni Chatrath made headlines on Saturday, a contrasting news about the comedian-actor has also been doing the rounds recently.
A report claimed that a drunk Kapil Sharma beat up his 'The Kapil Sharma Show' co-star Sunil Grover, also known as Gutthi for a character he played, and verbally abused him while they were returning together on a flight from Australia. The fight caught the attention of other passengers and even the cabin crew reportedly had to intervene.
Kapil Sharma has finally reacted to the reports, in his trademark style. He told Bollywood Life, "Mujhe yaad nahi (I don't remember). Actually hamari har flight main ladai hoti hai (We fight on every flight)…har jagah ladai hoti hai (We fight everywhere)…It is a healthy fight…We fight for work…We fight for good work."
Kapil is known for his witty responses on his show and other events and this one also seems to be a similar one.
He also took to Facebook on Monday with a lengthy post, where he confirmed that they had an argument, but that these things keep happening between them. He said that they will sort it out among themselves and asked people to refrain from the negativity and focus on other important matters of the country.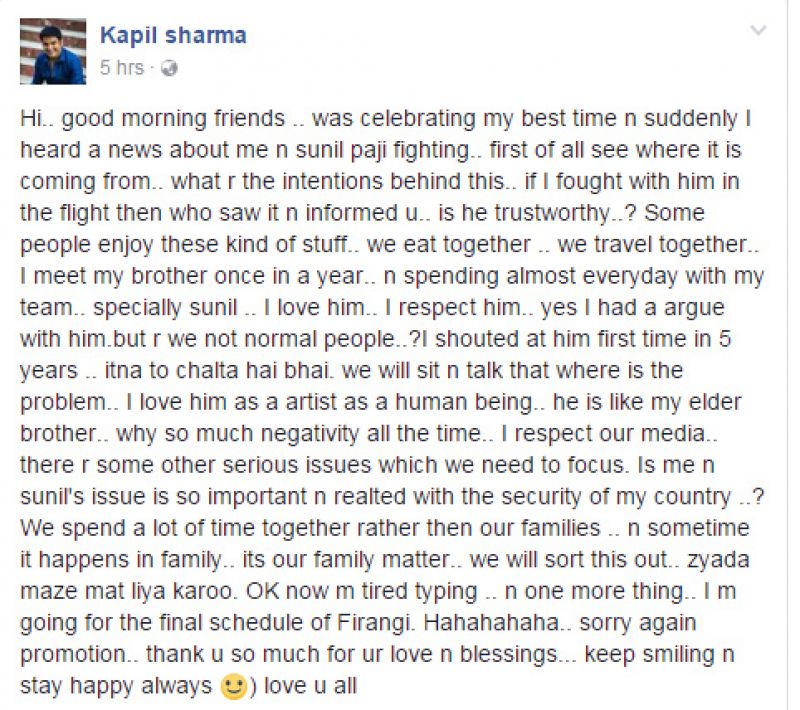 Latest News
Most Popular
Columns