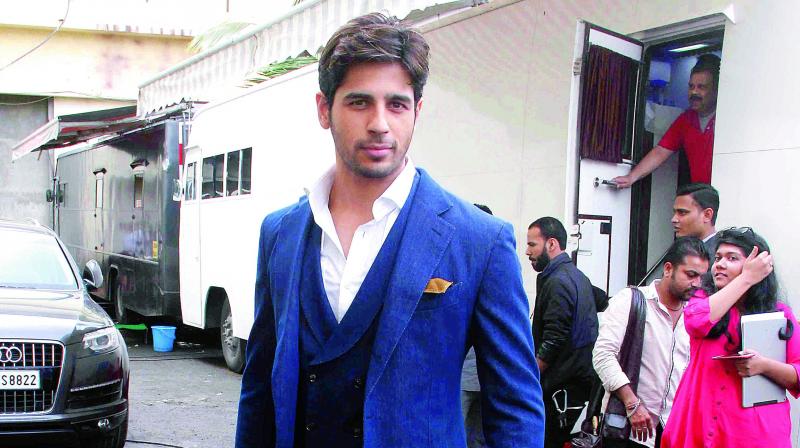 If you think Katrina Kaif and Sidharth Malhotra are moping over the fate of Baar Baar Dekho (BBD), think again. Both have quickly moved on — Katrina to Tiger Zinda Hai with Salman Khan and Sidharth to his untitled action film with Jacqueline Fernandez.
Sidharth is not the least remorseful about doing BBD. "Not at all," he says, when asked if he has regrets. "Maybe we failed, but at least we tried something new. When I heard the script, it was one of the most exciting ideas I had come across. What a lovely thought. The heart was in the right place."
He adds that he never questions his choices. "I only question certain methods and processes in the movie making business. I think after failures I've come out more experienced and slightly wiser."
What makes the actor sad is that an honourable failure like BBD deters other filmmakers and actors from trying out-of-the-box projects. "Now I know if I meet a first-time director, I'll be wary. Or say, if I write a script I'll be thinking anxiously whether it works for me as a member of the audience. The experience has made me more conscious about my future. Had BBD worked better, maybe I wouldn't be so careful with the modalities of making a film."
Katrina and Sidharth had promoted the movie with a vengeance. They even appeared on comedy shows, where Katrina sold chappals and Sidharth danced to Chikni Chameli. The actor gives an embarrassed laugh. "Yes, we did go out of our comfort zones to promote the film. You definitely question yourself when so much hard work is not rewarded. I heard a very interesting quote on marketing. 'Marketing is like God. If you believe in it, it works for you. Even if you don't believe in it, you still hope it works'. Nobody knows why so much marketing is done for our movies."
Why embarrass yourself selling a product, when the audiences decide the fate of a film based on the first trailer? Sighs Sid, "I'm not in a position yet where I can decide what works better and what doesn't. I have to go with the wisdom of those who know better. We're all learning as we go along; it's an ongoing process."
Sid, however, insists he stands by his choices in life, no matter what. "I'm still going to choose only those scripts I believe in. I stand by my choices. If I like a script and a role, it doesn't matter how many other actors are there or how many scenes I have. All the films I've done so far tell stories I want to tell."
So, if Sidharth had the chance to go time-travel, like his character and not do the film, would he take that option? "Oh, I'd still do the film," he exclaims. "But maybe differently. I still think it has great potential. Now that it's already done, there's no point thinking of what can't be fixed."
...