Entertainment
Explained: Why men age like fine wine but women look older than their age
Deccan Chronicle| Shweta Watson
Published on: October 15, 2017 | Updated on: October 16, 2017
After they hit their 40s, many women look older than they actually are. On the other hand, men often look younger in their later years.
Shah Rukh Khan, Aamir Khan and Madhuri Dixit
Age is a complicated thing. While some men age like fine wine, most women end up looking older than their age. Even with top notch grooming sessions, make-up, photoshop and various filters today, women look aged as they reach their 40s and 50s. For instance Angelina Jolie, who is 42 years old, looks like a beautiful 50-something. Just a couple of days ago, photos of Reena Datta, Aamir Khan's ex-wife, from her 50th birthday celebrations reveal she looks much older than ex-husband Aamir who is almost her age. We have some beautiful older celebrities like Gauri Khan, Amala Akkineni, Sridevi, Tabu, Juhi Chawla, Sangeeta Bijlani, Amrita Singh, Raveena Tandon, Karisma Kapoor, Revathi, Sonali Bendre, etc. However, their male counterparts like Shah Rukh Khan, Salman Khan, Aamir Khan, Akshay Kumar, Ajay Devgn, Nagarjuna and Venkatesh are fit and look much younger.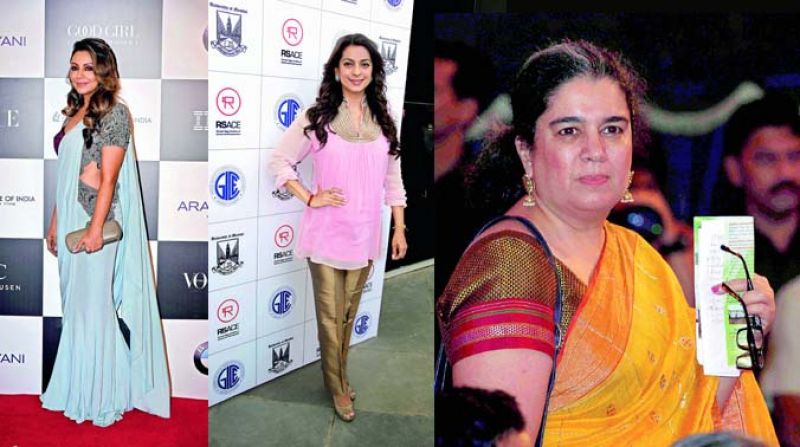 Gauri Khan, Juhi Chawla and Reena Datta
Hormonal problems
Once women hit late 40s, a lot of fat gets accumulated, especially near their waist, chin and belly. According to Dr Vimee Bindra, gynaecologist, Apollo Hospitals, hormones play a huge role in ageing. She says, "When women have hormonal problems, the signs of ageing begin to show faster. When no natural hormones are secreted, ageing happens rapidly. So once menopause kicks in, it's important to exercise and stay fit. Hormonal levels need to be maintained. Also, when the uterus is removed due to health conditions, there are several hormonal problems faced by women." Dr Vimee adds that marriage, pregnancy and childbirth also contribute to stress, which causes hormonal problems.
Ageing is inevitable. However, experts say that most women stop taking care of themselves as they hit their 40s and that is one reason why they age quickly. "The likes of Aamir and Akshay look amazing even in their 50s because they maintain consistency. It's not about losing and gaining weight, but about the appraoch and sustainability. As you age, visceral fat accumulates and affects how you look. So quick workouts, going size zero, treadmills or dieting won't work. A long term approach is needed. Most men follow a healthy lifestyle and fitness regime from a young age, while women do not. They panic once the ageing process begins," says fitness expert Purnima Raghavendra, adding, "The genetic make-up could also make a huge difference in ageing."
Genes matter
While genetics also has a hand in ageing, Anu Acharya, founder, MapMyGenome, which focuses on personalised molecular diagnostics, says that it does not depend on gender. "Genetic make-up may impact the way someone ages, but it does not depend on their gender. It could affect both men and women in the same way. I think, fitness, diet and other such factors play a bigger role," adds Anu.
One question remains unanswered. Do women stop taking pride in their appearance after marriage, childbirth and signs of ageing? Talking about this, Dr Diana Monteiro, counselling psychologist, says, "When it comes to the showbiz, actresses stop getting roles as they reach their 40s, so the drive to take care of themselves goes away. When you keep getting roles, like SRK or Aamir, you feel the need to maintain yourself."
Latest News
Most Popular
Columns