Entertainment
Zaira Wasim's shocking post on tussle with depression goes viral, experts decode it
In a short span of time in the industry, the Dangal actress has come forward about her battle at such a young age.
Zaira Wasim
In 2015, when one of the leading ladies of Bollywood, Deepika Padukone, broke her silence on dealing with depression, the revelation took everyone by surprise. The reason for this being, an illness of this kind had not been discussed in our society before.
When talking about her battle with depression, Deepika said that, while she was being showered with praise for her work, she experienced a different feeling inside.
With Deepika's coming out, she paved way for many celebrities dealing with depression or anxiety, to be forthcoming about their struggles with these illnesses. Actors like Ileana D'Cruz and Shama Sikander have since been candid about their mental health issues.
And now, 17-year-old Dangal actress, Zaira Wasim, broke her silence on depression. The young actress took to Twitter on Friday to post a lengthy note about her struggle with depression.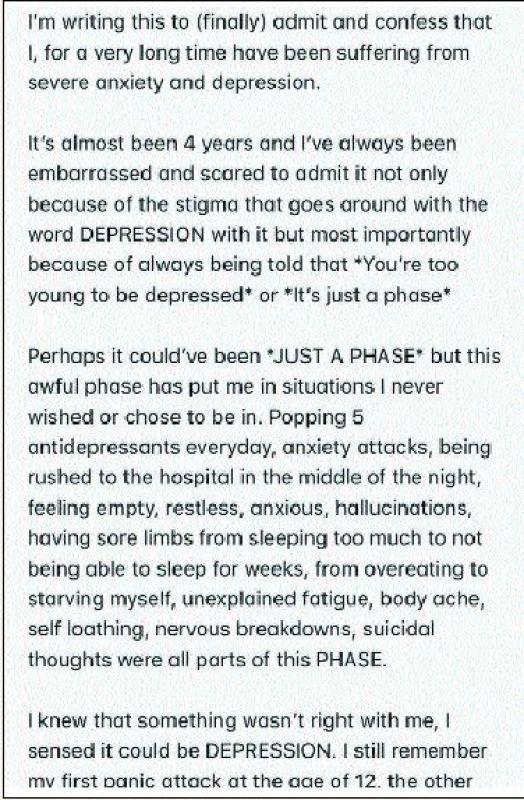 Zaira's note on Twitter
In her note, she mentions how she was repeatedly being told that she was 'too young to be depressed' and that depression is 'just a phase'. The tweet also gave rise to questions like, how can a young child suffer from depression?
Motivational speaker Nisha Jamvwal asserts that a child is prone to depression as much as an adult. "Absolutely, it can happen to even a child. Seventeen is not a young age, so obviously, she understands she is going through depression and if she does, then it's good because she can handle it much better."
Zaira, in her note, goes on to mention that she knew there was something wrong with her. "I knew that something wasn't right with me, I sensed it could be DEPRESSION. I still remember my first panic attack at the age of 12, the other one at 14 and now all I remember is losing count of the number of panic attacks, losing counts of the number of medicines I've had and I'm still having, losing count of the number of times I have been told — It's nothing, you're too young to be depressed," reads her note.
However, developmental paediatrician Anjana Thadani says that depression is not a common phenomenon among 17-year-olds in India. "Depression at the age of 17 is not too common in India, but in the last two years, it has increased immensely. I have seen kids suffer from depression at a much younger age. Children come to me with academic problems and social issues. The teens come with suicidal tendencies," notes Anjana.
Zaira had a dream career. She started off her career with superstar Aamir Khan in Dangal and soon went on to do Secret Superstar, opposite Aamir again.
Nisha feels that the immense pressure on actors, which at times gets difficult to deal with, is one of the prime reasons for depression. "There is a huge pressure on them and I can actually understand and empathise with it. There are uncharitable pressures on their appearances, performances, social media pressures. So I can understand what she is going through. To grapple with all this is very shocking for a youngster," says Nisha.
And with more and more celebrities and people opening up about depression, there has been an increase in related cases.
"Now, people are aware of the term depression so they know where to go and how to ask for help. Earlier, they were not ready to accept the term. It was like a taboo," says Anjana.
While one might not be aware when they slip into depression, there definitely is a cure. "There is no way to get out of it, but early detection can save a lot of problems and that helps in healing," she Anjana.
Latest News
Most Popular
Columns