Entertainment
Katrina Kaif was quite the poser as a 12-year-old in this cute throwback picture
Deccan Chronicle | DC Correspondent
Published on: May 7, 2017 | Updated on: May 7, 2017
She shared a picture of herself as a 12-year-old on Instagram, where her then modelling ambitions are on display.
The picture that Katrina shared on Instagram.
Mumbai: While most of the Bollywood celebrities are on social media today, Katrina Kaif had stayed away from it for a substantial amount of time.
While the actress still has not logged on Twitter, where most of the Bollywood celebrities are active, she had joined Facebook few months back, followed by Instagram just few days ago.
Katrina has more than 11.1 million followers on Facebook and has started her journey on Instagram with a bang too, earning 1.7 million followers in a jiffy.
Her start to the platform has also made headlines primarily because of the interesting ways in which celebrities from the film industry like Shah Rukh Khan, Salman Khan, Priyanka Chopra, Ranveer Singh, Alia Bhatt and Arjun Kapoor welcomed her to the photo-sharing medium.
This was followed by the interesting pictures she shared, like the sizzling phootoshoot in a towel for Mario Testino and some more pictures of a hot photoshoot, still from 'Jagga Jasoos' and many other candid clicks.
The actress has now shared an adorable picture of herself when she was a 12-year-old.
However, the picture is not from an album she has treasured over the years, but one she recently found. That's what she mentions in the caption, adding that she was quite the poser and highlighting her modelling ambitions with the hashtag #iwannabeamodel.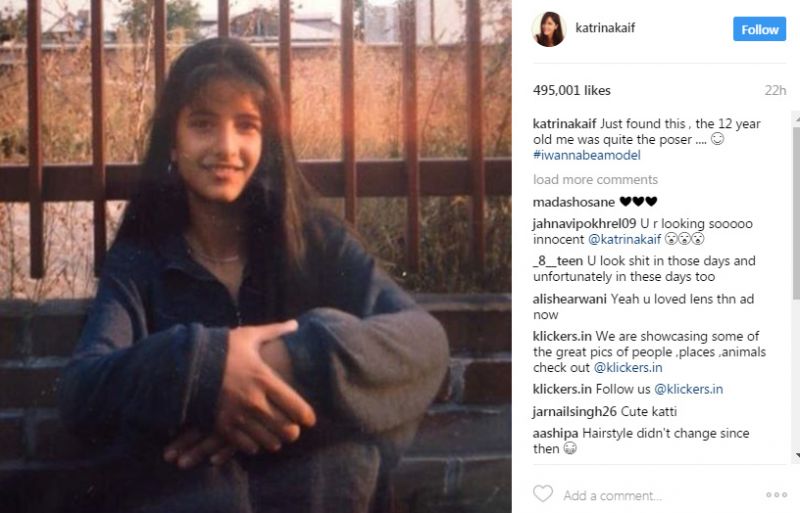 With such regular photo updates and that too interesting ones, there is no doubt that her number of followers would grow at a blistering pace.
On the professional front, Katrina will next be seen in 'Jagga Jasoos' opposite Ranbir Kapoor.
Latest News
Most Popular
Columns