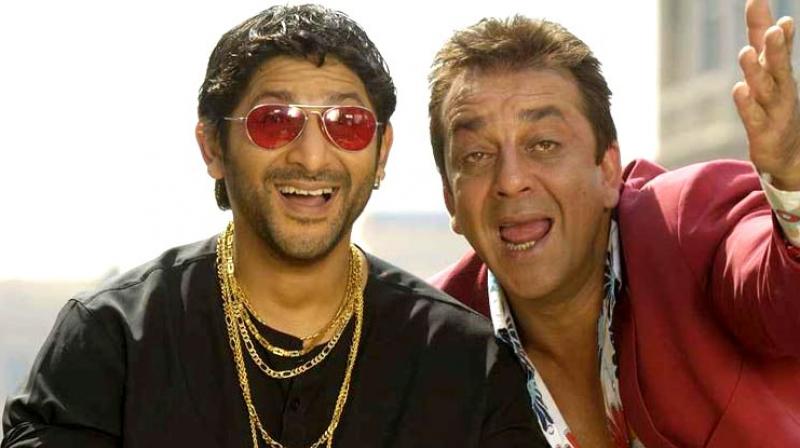 Sunday is here, and with it, even the day to remember all your friends has come back. Bollywood movies have often shown us such friends, some who we have been totally inspired and struck by. Here are some of those friends we want or already have in our life:
Sanju and Kamli - Sanju:
Imagine a naive friend like Kamlesh meeting the been there-done that kind of friend Sanjay Dutt. The jodi would obviously be an unusual one, and then there would be lots of fun involved too. Who wouldn't want such a bestie now?
Sid and Akash - Dil Chahta Hai:
The law of opposites attract would probably fit best here since an overly matured Siddharth and a childish and irresponsible Akash needed each other to perfect their incompleteness.
Rahul and Anjali - Kuch Kuch Hota Hai:
When we say friends, how could we even miss this one? Rahul Shah Rukh Khan and Anjali Kajol were ultimate friendship goals turned lover goals, because Pyaar Dosti Hai.
Arjun and Imraan - Zindagi Na Milegi Dobara:
Arjun Hrithik Roshan and Imraan Farhan Akhtar taught each other something. Farhan showed Hrithik how life is meant to be lived, and helped him find love again. Hrithik, on the other hand, was just there as Farhan's support through his tough time. In all, they gave us wanderlust combined with friendship goals.
Jai and Veeru - Sholay:
The list would've been incomplete if these two weren't mentioned. Jai gave up his life by deceit, to save Veeru. A friend who goes the extra mile, is a friend for the keeps, peeps.
Kabir and Avi - Yeh Jawaani Hai Deewani:
Both irresponsible people, just entering into the adult world, learnt, got hurt and grew up together. That's how friends develop, no?
Rancho and Raju - 3 Idiots:
Such an adorable character from Rajkumar Hirani's 3 Idiots, Rancho, converted Raju from a darpok to a live-a-little-more person.
Munna and Curcuit - Munnabhai MBBS:
Can a guru and chela be good friends? Munnabhai MBBS proved that they definitely can!
Aditya and Joseph - Rock On!!:
No friendship can last greater than sharing the same passion and no friend is better than the one who helps in reigniting the passion despite all odds.
Rani and Vijaya - Queen:
Being crazy is always fun, and having another crazy friend just doubles up as BFF.
Bonus: Rohit and Jaadu
Okay we still don't know if an alien actually exists or not, but imagine if we all had a jaadu who would just correct whatever is wrong with us! Then maybe we wouldn't let it go, even if it was an alien.
...