Entertainment
Ananya reveals the quality she inherited from dad Chunky Panday; find out
Deccan Chronicle| Sumit Rajguru
Published on: July 5, 2019 | Updated on: July 6, 2019
Ananya Panday started digital social responsibility initiative to combat issue of social media bullying with 'So Positive'.
Chunky Panday with Ananya Panday.
Mumbai: The 'Next Gen star' Ananya Panday on the occasion of Social media day announced that she will be taking up a digital social responsibility initiative to combat the issue of social media bullying with her initiative 'So Positive'. The aim of the initiative is to spread awareness that the faceless bullying on social media exists and it's high time that we all acknowledge it- stand up for it, to negate it.
Recently in interaction with Deccan Chronicle, Ananya spoke about her social media campaign, life after Student of The Year 2, nepotism and her next big film, Pati, Patni Aur Who. Excerpts
How did you get a thought of starting So Positive initiative?
I have been thinking about this for a really long time, but I didn't know exactly how I could do it and what I could do about it. I just knew that I felt very strongly about it so, I discussed it with my parents and my team. After the discussion, I realised that I am an actor and people actually take me seriously and listen to what I say. I realised that companies have corporate social responsibility but like no one takes digital responsibility seriously at all as it's important too. In this millennial era where we spend most of our time on social media, it is important to extend our social responsibility to the virtual space as well.
What was the process behind it?
Through this initiative, I want to build a community which is against social media bullying. I will be posting details about bullying and information about what people can do to report bullying. We would lobby for social media empathy and constructive criticism with this initiative. For example, how they can report and block bullies on social media platforms such as Snapchat and Instagram. I will also give out numbers of certain counsellors whom they can get in touch with, besides creating a direct line with me to talk sometimes about the issues they are facing.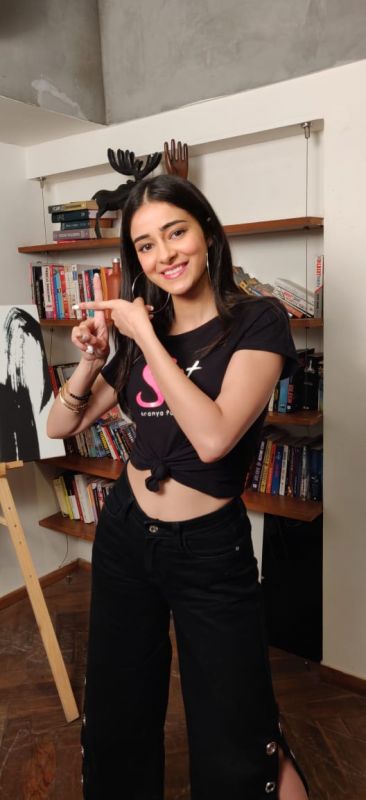 Ananya Panday.
Was your parents a part of this initiative?
I spoke to my parents and my close circle. They have been very supportive of it. They strongly felt that someone has to take a stand and eventually people will follow.
Being a star kid, you have faced a lot of hatred on social media, does that add any pressure on your work?
Of course, I had been in the public eye much before my debut. I have received a lot of love from the people but one can't please everyone and there are people who would criticise you. So, I try to ignore them and give them love.
How did you manage to fight against nepotism comments?
I believe that it exists, but I believe it exists in all industries and not just in our industry. Tiger Shroff had once adviced me that we should ignore the comments and make your work speak. I am glad that people have liked my performance in Student of the year 2 and that's what matters me the most.
Like you, star kids like Alia, Sonakshi, Janhvi have also been the victims of social media bullying. So did they shared any worst experience of social media bullying with you?
I haven't spoken to them on this but all of us have been through this. Not just the star kids but everyone, in general, goes through it which is why we need to spread positivity.
You are turned out to be an inspiration for upcoming stars as well as the young generation. Do you have any advice to victims of social media bullying?
I take pride in being a strong person. My dad has also been a thick-skinned person through it all. I think I have inherited that quality in me. I feel the best way to deal with trolls is to simply ignore them or give love back to the people who hate me.
After Student Of The Year 2, what changes do you find in your life?
People have started recognising me more after the release of the film. It's a happy feeling.
Tell us some details about your character in Pati Patni Aur Woh?
I can't reveal about my character but it is going to an interesting one. I have shot for the first schedule and now, after one week I will be travelling to Lucknow. It will be a 2-month-long schedule.
Latest News
Most Popular
Columns