Entertainment
'Martyred soldiers were not forced to join Army': Om Puri draws criticism
Deccan Chronicle | DC Correspondent
Published on: October 4, 2016 | Updated on: October 4, 2016
The veteran actor has been receiving widespread flak for his unsavoury remarks on the Indian army.
Om Puri was vocal about his criticism of the ban on Pakistani artistes in India.
Mumbai: Coming out in support of Pakistani artistes, actor Om Puri lost his cool during a television debate and insulted Uri martyrs, saying, "Who had asked the soldiers to join the army? Who told them to pick the weapons?"
Expressing discontent over ban on Pakistani artistes in India, Puri asserted that art and politics need to be held mutually exclusive. "Pakistanis working in Indian films isn't illegal and their being shunned would only lead to the concerned produces incurring heavy losses," said the acclaimed actor.
"When the government is taking action, we all should stay quiet. It hardly matters if we send back the artistes from Pakistan or let them stay. I have been to Pakistan six times and have met people from all strata," the actor said.
"I have always received love and warmth. If the Pakistani actors leave the projects in middle, then people in India (filmmakers) will also face financial loss. Hence, this is insignificant. The actors have not come here illegaly. They have a valid visa. But, if the government asks them to leave, then it is different," he added.
However, the actor lost his cool midway, when he felt that the anchor was propagating his own perspective, leaving little leeway for the guests to put their point across. The actor made a blatantly unsavoury remark on the soldiers martyred during Uri terror attack, saying, "We haven't forced them to join the Army."
After being heavily lambasted by the MNS spokesperson who also chaired the debate, the actor stormed out, concluding, "Prepare 15-20 people as suicide bomber and send them to Pakistan to conduct blasts there."
Bollywood has been polarised in their take on the issue with the likes of Nana Patekar, Randeep Hooda coming out in support of the ban, while others like Salman Khan, Karan Johar and Mahesh Bhatt, vociferously.
Twitterati, including his colleague of a few good decades, Anupam Kher, were not kind to his outburst and criticised him for 'insulting soldiers'.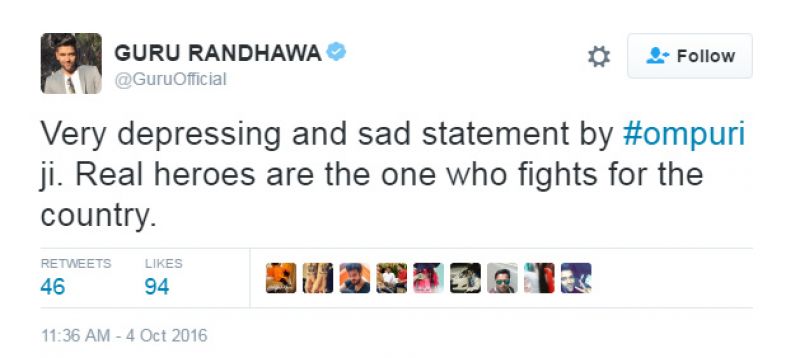 Meanwhile, a complaint has been registered against Om Puri at the Andheri police station, for willfully 'humiliating' the Indian Army.
Latest News
Most Popular
Columns