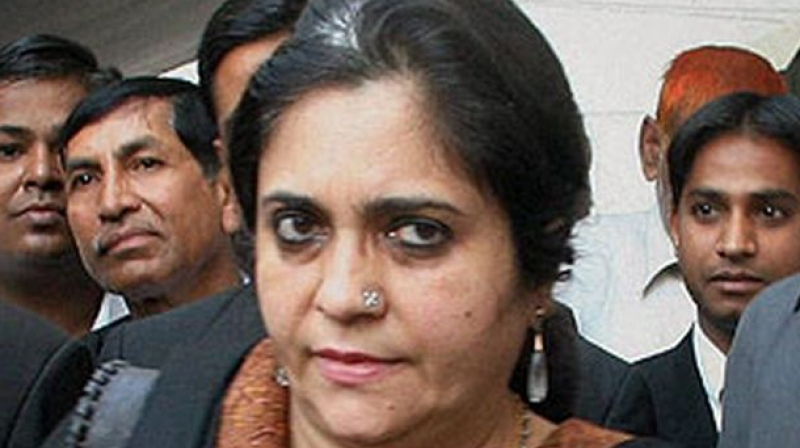 New Delhi: The Supreme Court on Thursday extended till March 18, the anticipatory bail granted to social activist Teesta Setalvad and her husband Javed Anand in an embezzlement case related to riot victims of Gulberg society in Gujarat.
A three-judge Bench of Justices Anil R. Dave, Ibrahim Kalifulla and V. Gopala Gowda extended the bail after hearing senior counsel Kapil Sibal and Ms. Kamini Jaiswal, appearing for the petitioners and senior counsel Mahesh Jethmalani for Gujarat and Solicitor General Ranjit Kumar for CBI. It was submitted that the petitioners had not furnished the documents sought from them in April last.
Further the CBI said the Trust had received grants from Ford Foundation for which they have to provide utilization certificate to ensure that the amount was spent for the objective for which it was received. The petitioners had failed to give these certificates to the CBI, it was argued.
While extending the anticipatory bail, the bench warned the petitioners that the anticipatory bail will be cancelled if they did not cooperate in the investigation as alleged by counsel for Gujarat and CBI. The Bench directed the petitioners to furnish the documents sought for the purpose of investigation in two weeks and posted the matter for final hearing on March 9.
The Bench is also hearing appeals filed by the petitioners against certain observations made by the Bombay High Court in its judgment granting anticipatory bail to them in the `foreign contribution case' and posted the matter for further hearing on January 21, 2016. The CBI had also filed an appeal against the impugned judgment granting them bail.
Among the allegations levelled against them by the Gujarat government is a case of fraud related to a proposed plan to build a memorial for the victims of the Gulberg Society killings, as well as embezzlement of funds. After the Gujarat High Court declined anticipatory bail, the apex court granted anticipatory bail in February this year and this was extended from time to time.
The CBI submitted that Sabrang Communications and Publishing Pvt. Ltd (SCPPL) run by Ms. Setalvad and Mr. Anand received funds to the tune of $ 2,90,000 from the U.S.-based Ford Foundation. This was in violation of the FCRA and also they had misused the funds received.
...