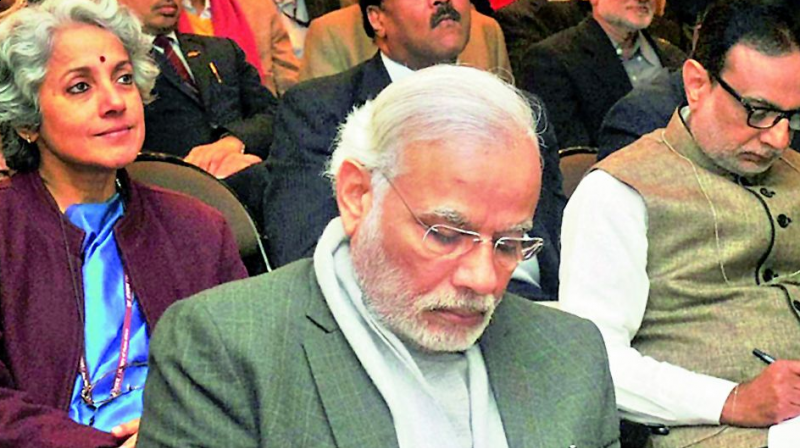 New Delhi: A Group of Secretaries today presented their ideas and suggestions on 'Swachh Bharat, Shik-shit Bharat' to Prime Minister Narendra Modi, who had exhorted the top bureaucrats to come up with ideas for transformative change in various areas of governance.
Sunday's presentation was also attended by Union ministers Rajnath Singh and Manohar Parrikar, besides vice chairman of Niti Aayog, Arvind Panagariya.
After the presentation, several members of the audience also gave their suggestions and observations on the subject, a PMO statement said.
So far, four Groups of Secretaries have made such presentations to the Prime Minister. Eight such groups were set up by Modi recently for focussed attention to various sectors.
Two Groups of Secretaries on Innovative Budgeting and Effective Implementation and Swachh Bharat and Ganga Rejuvenation had also presented their ideas on Friday with regard to "transformative change" which the government wants to bring about in the lives of people.
On January 12, the first group on Energy Conservation and Efficiency, had made its presentation.
The subjects on which the groups have been set up are — 'Good Governance —  challenges and opportunities', 'Employment generation strategies', 'farmer-centric initiatives in agriculture and allied sectors', 'education and health — universal access and quality', 'innovative budgeting and effective implementation', 'accelerated growth with inclusion and equity', 'Swachch Bharat and Ganga rejuvenation' and 'energy efficiency and conservation'.
...