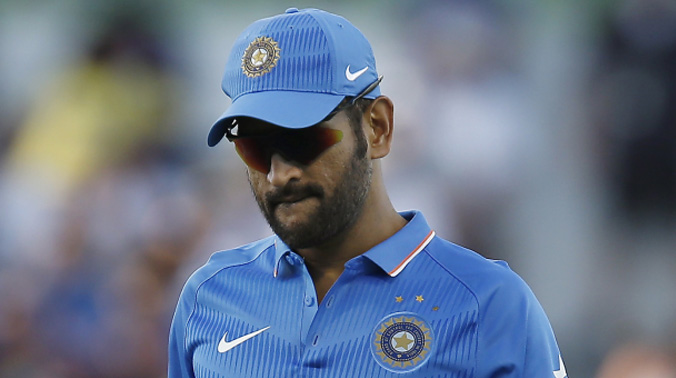 Perth: MS Dhoni maintained his stoic stance regarding India's aversion for contentious Decision Review System (DRS) but said that he "may agree" to the notion that his team is suffering for non-usage of technology.
Australia were 21 for two when George Bailey was caught down the leg side by Dhoni off the very first ball he faced from debutant Barinder Sran.
The snickometer showed that ball brushed Bailey's gloves before the Indian skipper caught it.
While Dhoni went up in appeal, the bowler was not fully convinced and umpire Richard Kettleborough ruled it in favour of the batsman.
Bailey went on to get a hundred and added 242 runs with skipper Steve Smith as Australia romped home.
When an Aussie scribe asked if the umpires are punishing India regarding 50-50 decisions, Dhoni in a playful tone said: "I may agree with you".
Dhoni was in agreement that a third wicket then could have changed the course of the match but also made it clear that he wants to see the umpires take more correct decisions.
"It could have (changed the result of the game) but at the same time, we need to push the umpires to take the right decision. You have to see how many 50-50 decisions don't go in our favour. And it always happens that you have to take it but I am still not convinced about DRS," Dhoni stated what has been BCCI's stand on the issue for a long time now.
Dhoni then again explained what he thought about DRS in its present form.
"Ideally, DRS should be a decision making system. But there are quite a few deviations and even the makers agree with that. And in cricket, every inch matters not even inches, it's millimeters that matter.
"DRS shouldn't be umpires decision justification system. It should be giving the right decision. Like in tennis, you don't say if the umpire has given it out, half the ball needs to pitch on the line, or if he has given it not out, the scenario is different. It has to be plain and simple," he added.
Dhoni rues 'bad day' for spinners:

Dhoni on Tuesday said that he never thought his spinners R. Ashwin and Ravindra Jadeja will have such a "bad day". Ashwin (2/69 in 9 overs) and Jadeja (0/61 in 9 overs) together gave away 129 runs in 18 overs.
"When I was speaking about sharing the load before the match, I was speaking about when the fast-bowlers don't have a very good day then I will have to use the spinner. I never thought it will be the spinners who will have a very bad day and the others will have to share that responsibility," Dhoni said.
...