Business
World Summit on countering violence and extremism
Deccan Chronicle | DC Correspondent
Published on: September 28, 2018 | Updated on: September 28, 2018
India leads the way in peace and non-violence movement at the World Summit in Mumbai.
Group Picture to promote peace and harmony.
Mumbai: The world is in dire need of peace, compassion and harmonious co-existence, a few of these words were heard being echoed at the ongoing World Summit on Countering Violence and Extremism that is being held in Mumbai and Bengaluru between 28th September, 2018 and 2nd October, 2018.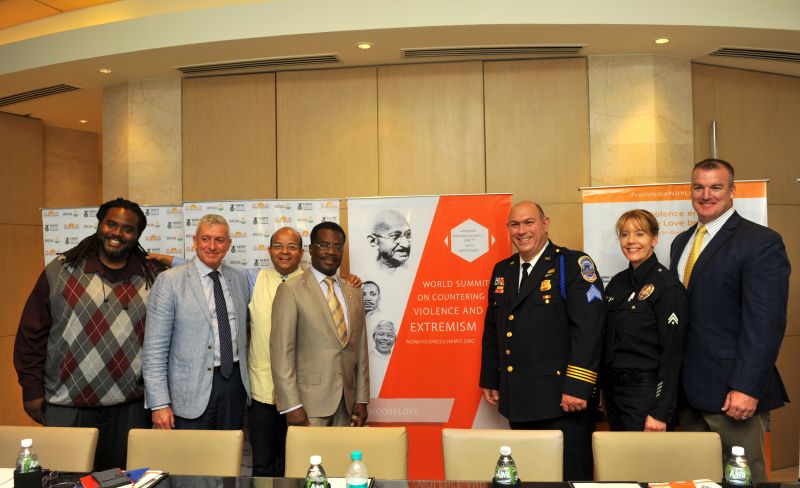 The Summit culminates on the 149th birth centenary of Mahatma Gandhi (2nd October, 2018), torch- bearer of Non-violence or 'Ahimsa', the summit is seen as reinvigorating the principles taught by him. The application of Gandhian philosophy of non-violence seems relevant now in America, more than ever before as the rise of violence and extremism is the biggest challenge facing our global society.
The whole idea is to bring together the police officials, political and community leaders from across USA and India to study India's ancient culture and wisdom of non-violence and compassion to build a collaborative network, device innovative strategies and actionable insights by helping individual transformation to help fight the tendencies of violence across the world.
During the summit, it was widely acknowledged that where the world had become a global village and more advanced, its basic foundation is being threatened by crime and mass violence which pose a threat to human existence and needs to be addressed at various levels by educating, imparting knowledge, being aware and most importantly being addressed at both- trickle- down and bottom- up approach.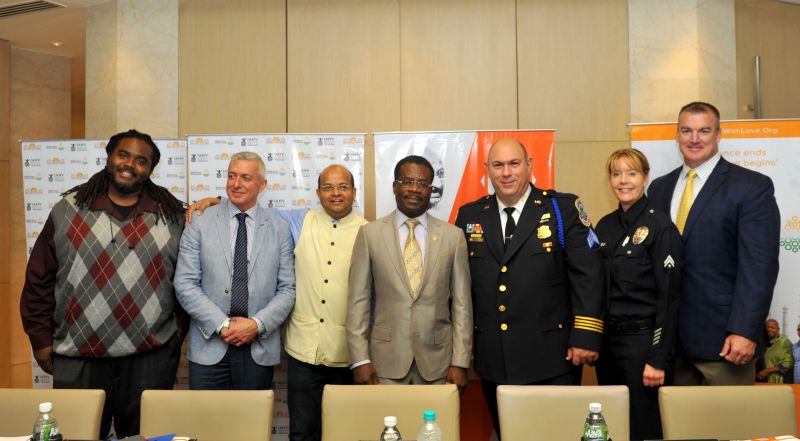 Visionaries from across the world like Dr Frank Straub, Director of Strategic Studies & Centre for Mass Violence Response Studies at the National Police Foundation, Charlie Allen, Director for Partnerships, Institute for Economics and Peace, Dr Joseph Smith, Mayor, City of North Miami, Suzanne Reardon, Researcher from George Mason University and several other notable world dignitaries from the field of education, research, law enforcement, civic bodies and policy making have travelled to India to participate in the summit.
"The collaboration we are developing with From India With Love presents a unique and important opportunity to explore Gandhi's principles of nonviolence and work with police and community leaders to counter violence and extremism," said Chief (Ret.) Jim Bueermann, President of the National Police Foundation.
"We continue to collaborate with law enforcement leaders in the United States and abroad, including Mexico, Canada and beyond to share ideas to advance policing and safety through science and innovation. We believe that our participation in the world summit and collaboration with From India With Love will create new opportunities to work with law enforcement leaders and to draw from their unique perspectives to identify responses to violence and extremism." He further added
Mr Mandar Apte, Executive Director, From India With Love said that, "Mahatma Gandhi's relevance has never been greater for America. In a world so full of violence, suffering and pain, it is time for each one of us to invest in learning the science of mindfulness and meditation and its application in healing and transformation"
The delegates will go through series of sessions on Cultural Immersion in India, case studies, a visit to Chabad House to pay homage to those who lost their lives during the 26/11 terrorist attacks in Mumbai, felicitation of Mumbai terror attacks victims and survivors by the American police, a visit to Jain Temple to study the teachings of Ahimsa as proposed by Tirthankaras and finally also a visit to Gandhi Mani Bhavan to experience the ideology and life of Mahatma Gandhi.
During the Bengaluru visit, the delegates will attend sessions featuring discussions on topics such as 'Making Peace Profitable,' 'Foundations of Peace and Non-Violence in India's culture,' 'Creating Positive Peace Frameworks' and includes a Masterclass in Non-Violence with Gurudev Sri Sri Ravi Shankar, Founder of The Art of Living and International Association for Human Values, known for his role in brokering the historic peace deal between FARC and the Colombian Government.
Latest News
Most Popular
Columns