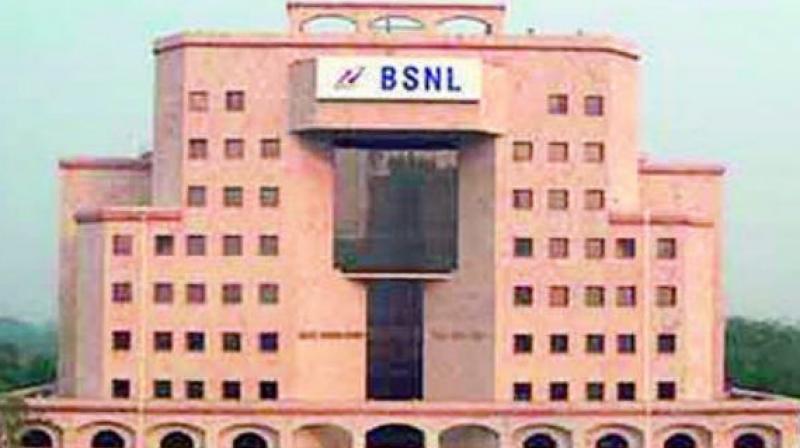 New Delhi: State-owned BSNL's non-executive workers joined nationwide strike today, which unions claim has hit customer service functions - bill payment, SIM activation and others like fault repair.
However, there was no disruption in landline, mobile or broadband services. BSNL Employees' Union and National Federation of Telecom Employees - BSNL, claimed that employees affiliated to them did not report for work today.
"As many as 80 per cent of the non-executive employees of BSNL went on strike. The customer service centers were closed and services like tower and cable maintenance, fault rectification were not attended to," claimed P Abhimanyu, general secretary of BSNL Employees' Union.
BSNL Employees' Union claims to have one lakh non-executive employees as members. National Federation of Telecom Employees too claimed that as customer service centres were closed, and functions such as billing, collection, SIM activation, and fault repair for landline and broadband connections were impacted.
"While our members have stayed off work, there has been no disruption or sabotage with regard to the existing services, landline or GSM...Our members are sensitive to the fact that our company is our asset," said Chandeshwar Singh, general secretary of National Federation of Telecom Employees.
When contacted, BSNL CMD Anupam Shrivastava countered the claims by unions that services have been impacted. He said that only 40-45 per cent staff participated in the strike but here was not affect on exchanges, landline, mobIle and broadband service which continued to function normally.
However he said,"We are getting some report from West Bengal. But all our services are functional." About customer services he said that there was alternate mechanism (online and franchise network) available to customers for various functions like SIM activation and billing.
...