Business
Aadhaar-PAN deadline expires at midnight today! Here's how to do it
Deccan Chronicle | DC Correspondent
Published on: June 28, 2017 | Updated on: August 31, 2017
The government has mandated the quoting of Aadhaar while filing income tax returns.
Representational Image.
Mumbai: With the deadline for linking PAN with Aadhaar looming large, it is important to understand that your income tax returns will not processed unless you complete the linkage by August 31.
The tax department had earlier clarified that the deadline will hold true, even as the Aadhaar Act faces Supreme Court's judgement.
However, PTI reported on Wednesday that the Finance Ministry may take a call on extension of the deadline on Thursday.
With just few hours to go for the deadline, here is a step-by-step guide to linking your Aadhaar with your PAN :
Online linking
Step 1: The I-T department's email from its e-filing team says a new feature available on the website does not require the user to register or login. This feature can be used by anyone to link their Aadhaar with PAN. This is the link to the website: incometaxindiaefiling.gov.in
Step 2: Once you are on the I-T Department's e-filing website, click on the new 'Link Aadhaar' option visible in red, on the left hand side, just below the blue "I Am.." box.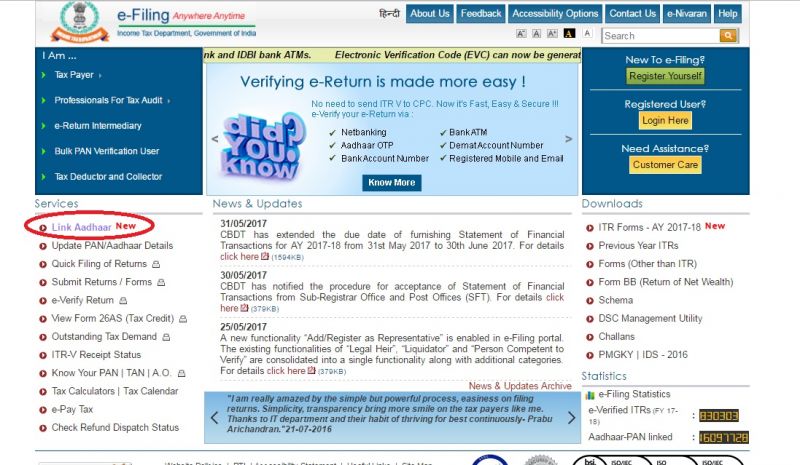 'Link Addhaar' option on the I-T department e-filing website.
Step 3: You have been directed to a page that requires you to fill in your PAN, Aadhaar No. and name (as is exactly mentioned in their Aadhaar cards, sans any mistake) in the respective fields. Hit 'Submit'. The linking will be confirmed after you receive a verification from UIDAI.
Caution: Ensure that the date of birth and gender in PAN and Aadhaar are exactly the same. The linking will not take place in the event of any mismatch.
Step 4: Once your validation is successful, your Aadhaar will be successfully linked to your PAN. A pop-up will appear, confirming the same.
Linking PAN and AADHAAR via SMS
Alterantively, you can link your AADHAAR with your PAN by sending an SMS to 567678 or 56161.
Latest News
Most Popular
Columns