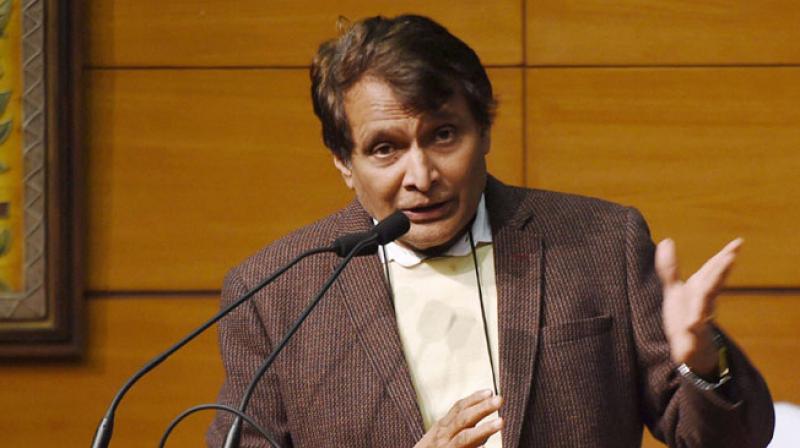 New Delhi: Commerce and Industry Minister Suresh Prabhu will hold detailed deliberations with the stakeholders concerned on October 6 on ways to boost exports of goods and services, an official said.
"Six groups will be formed to prepare the groundwork for that meeting. They would submit their reports to the minister, which will be discussed on October 6," the government official, who did not want to be named, said.
The groups will consist of members from trade, the industry and the government.
The reports will be prepared on how to integrate India with the global value chain, compatibility of export schemes with the norms of World Trade Organisation (WTO), promotion of exports of labour-intensive sectors, facilitating exports of knowledge-based industries like IT and pharma, services exports and the e-commerce segment.
The meeting assumes significance as exporters are facing issues over implementation of the Goods and Services tax (GST) and other matters including those of WTO.
According to a WTO rule, when a member country's per capita gross national income breaches the cap of USD 1,000 continuously for three years, it will not be able to extend export subsidies to traders.
Similarly, WTO member countries, including the US, Turkey and Japan, have asked India to phase out export subsidies on textiles and apparel sectors because as per WTO data, India's export has crossed the 3.25 per cent threshold of the world trade consecutively for two years.
The commerce ministry is also working on reviewing the foreign trade policy (FTP), which is unlikely to be released this month. There were plans to announce it this month.
The country's exports recorded a double-digit growth of 10.29 per cent after a gap of three months to USD 23.81 billion in August.
Key sectors which recorded healthy growth last month in exports include petroleum, engineering and marine products. However, handicraft, gems and jewellery and fruits and vegetables saw contraction.
...