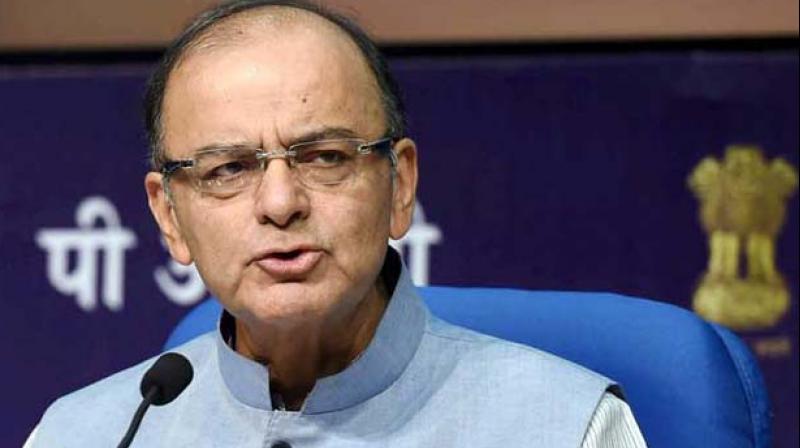 New Delhi: India will press ahead with tax reforms, repairing the banking system and getting stalled infrastructure projects moving to drive growth, Finance Minister Arun Jaitley said on Wednesday, but it is not yet ready to sell off its state banks.
Asked what his top economic policy priorities were, Jaitley told a conference he was determined to stick to a "very stiff" schedule that foresees passing critical enabling legislation for a new goods and services tax (GST) this autumn.
Jaitley said the new GST, once implemented, would have a "transformational" impact by creating a common market in India for the first time, while also acting as a transfer mechanism that would aid poorer federal states.
The goal of the federal and state governments would be for the tax to be revenue-neutral and, and as the tax becomes established, for its rate to come down over time, Jaitley said.
A revenue-neutral tax changes a country's tax structure but is not intended to increase the overall amount of tax levied.
Jaitley did not say what rate he preferred but the government's economic adviser has pegged a revenue-neutral rate at about 18 per cent.
Jaitley said it was vital to revive the banking sector, but ruled out selling controlling stakes in public-sector banks that control 70 per cent of assets in the financial system and hold the lion's share of India's $120 billion in bad loans.
"I don't think that public or political opinion has converged to the point where we can think of privatisation in the banking sector," Jaitley told The Economist India Summit in New Delhi.
The government is consolidating some of the public sector banks to strengthen them, but does not plan to reduce the state's share below a threshold of 52 per cent, Jaitley said. India currently owns stakes of between 60 per cent and 86 per cent in nearly two dozen state-run banks.
Getting stalled infrastructure projects moving would help to drive growth and provide development benefits for the 1.3 billion people living in India, the economy of which continues to perform below potential, he said.
The latest gross domestic figures showed that growth in Asia's third-largest economy slowed to 7.1 per cent in the three months to June, from 7.9 per cent previously.
"We are still far below our best," Jaitley said in a podium interview, adding that as India looks to key state elections next year and a general election in 2019, economic reforms should bring growth benefits to voters, but the government must also "blend" them with social programmes.
...