Business
Reliance launches 'most intelligent' 4G VoLTE JioPhone for 'Rs 0'
Deccan Chronicle| Sukanya Datta
Published on: July 21, 2017 | Updated on: July 21, 2017
JioPhone supports 24 Indian languages and will be available for pre-booking from August 24.
Reliance Industries Limited Chairman Mukesh Ambani.
Mumbai: Reliance Industries Limited (RIL) chairman Mukesh Ambani on Friday rolled out the much-awaited "India ka intelligent smartphone" for a jaw-dropping price of "Rs 0".
At an effective price of Rs 0, the phone offers life-long free voice calls with cheap data and was aimed at the 50 crore low-income users.
In tune with Prime Minister Narendra Modi's idea of a 'Digital India', Ambani announced -- "digital freedom for all" -- by launching the 4G VoLTE feature phone or "JioPhone" for Rs 0. He said, "This is how Jio will end digital exclusion in India."
The feature phone will be available in 24 Indian languages and voice calls made from this phone will always be free. JioPhone users will have access to cheap unlimited data -- for Rs 153 per month with the phone.
A "fully refundable, one-time" security deposit of Rs 1,500 will be collected to avoid misuse of the JioPhone. The deposit will be refunded after 36 months on return of the phone.
Ambani dedicated the JioPhone to the nation on "the joyous occasion of India's 70th anniversary" of independence. He said, "Jio will democratise the digital culture in India".
Ambani said, "We are targeting to add 5 million JioPhones a week". He said from the last quarter of 2017, all JioPhones will be made in India, thereby making 2G phones "obsolete" in the country.
"JioPhone will be physically available to those who have pre-booked, on a first come first serve basis, September onwards," Ambani said.
Speaking at the Annual General Meeting (AGM) of RIL, Ambani said that Rs 1,000 invested in Reliance shares in 1977 is worth Rs 16,54,503 today. This makes those shares 1,600 times more valuable today.
The Reliance chairman also said before Jio's launch, India ranked 155th in the world in mobile broadband penetration. Today, he said Jio has brought about a revolution by making India "number one in mobile data consumption", overtaking the US and China in the process.
He further said Jio adds 7 customers per second every single day and has recorded a 125 million customer base as of today. Jio users, he said, make more than 250 crore minutes of voice and video calls every single day.
Ambani went on to predict that in the next 12 months, Jio services would cover 99 per cent of India's population. He further said Jio would create a huge 4G market in the next three years.
This will be achieved by "connectivity, data affordability and device affordability".
Ambani thanked Prime Minister Narendra Modi's vision of Digital India that had "sparked the beginning of initiatives like Jio".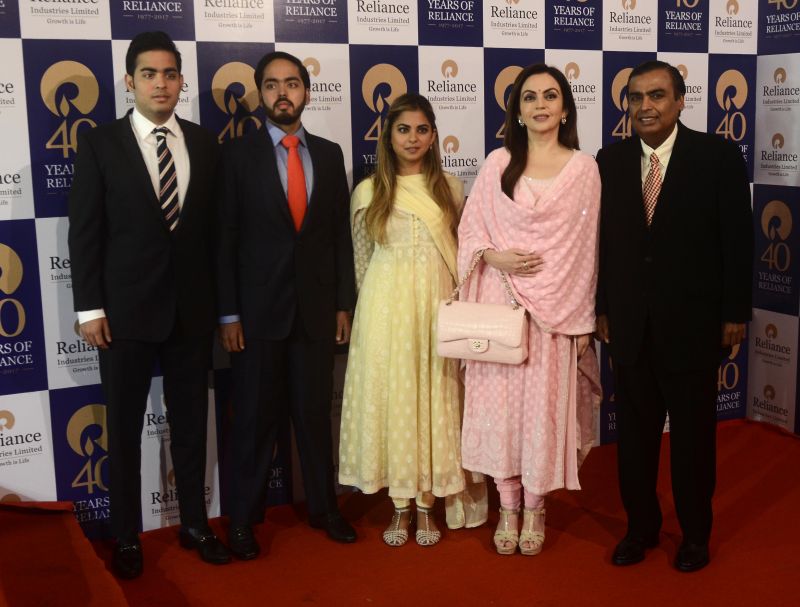 Mukesh Ambani, along with his wife Nita Ambani, sons Akash Ambani, Anant Ambani and daughter Isha Ambani. Photo: Shripad Naik.
Ambani also said he dedicated RIL's performance to his late father and Reliance founder Dhirubhai Ambani. A short movie on Dhirubhai Ambani was played mid-way through the speech.
At the end of the film, Ambani announced that while shareholders were watching the film, the board decided to issue one bonus share for every share held -- the first such issue after 12 years -- and a dividend of Rs 13 a share, adds PTI.
Latest News
Most Popular
Columns