Business
Diwali battle between Amazon, Snapdeal, Flipkart sales goes live! Here are the deals
Deccan Chronicle | DC Correspondent
Published on: October 13, 2017 | Updated on: October 13, 2017
Indian e-commerce biggies Amazon and Flipkart are set for round three of the online sale fight in the run up to Diwali.
Diwali will see a battle of online biggies as Flipkart, Amazon and Snapdeal sales go live. Photo: Flipkart website.
Mumbai: Indian e-commerce biggies Amazon, Flipkart and Snapdeal are set for round three of the online sale fight in the run up to Diwali!
Amazon India is back with its Diwali version of the 'Great Indian Festival' sale, starting October 14 to October 17. Flipkart's 'Big Diwali Sale' will also go live during the same period. Snapdeal's 'Unbox Diwali Sale' also went on air from October 13 to October 16.
Flipkart's motto seems to be "Shubh Bhi Labh Bhi" with the brand offering up to 70 per cent off on TV and electronic appliances (guaranteed "lighting discounts") that is available from October 10 to October 17. Under the 'Mobile Grand Finale', Flipkart is offering discount on brands like Moto, Redmi, Samsung, Lenovo and Apple iPhone!
Flipkart is also offering a brilliant exchange offer where customers can exchange a number of models from Xiaomi Redmi Note 3 to Asus Zenphone Laser 2 and get off in the range of Rs 3,050 to Rs 2,100.
A minimum of 50 to 70 percent discount is also being offered on clothes and apparel.
Amazon's 'Great Indian Sale' is being touted as the 'last chance for customers to save big' on festival shopping! Amazon is offering 15 to 20 per cent discount on cleaning essentials to get Diwali-ready. There is also 35 per cent discount on washing machines, 40 per cent off on air conditioners, 30 per cent off on refrigerators and other home appliances.

Under its Dhanteras Special offer, Amazon is giving 10 per cent off on gold coins, 6 per cent off on diamond and gold jewellery, 60 per cent off on copperware, 50 per cent off on stainless steelware, among other exciting offers.
There is also a discount of up to 70 per cent on apparels for men, women and children.
Snapdeal's 'Unbox Diwali Sale' also focuses on a range of household goods to spruce up your home in time for the Diwali.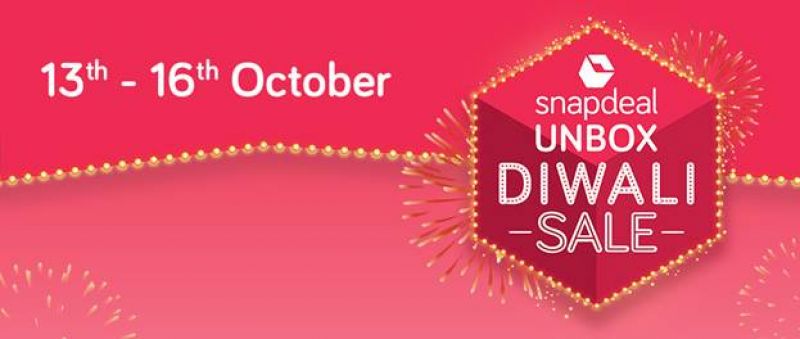 The website offers a bunch of good deals on home appliances like branded chimneys starting at Rs 3,999, motorized treadmills at Rs 17,999, water purifiers at Rs 5,999 and above.
Fine-dining cutlery in copper and opalware is also available on the website with prices starting at Rs 999.
There are also exciting offers on electronic items of personal use, households goods, dry fruits, apparels and gift items.
Commenting on the sale, Vishal Chadha, Chief Business Officer, Snapdeal said, "The Snapdeal Unbox Diwali Sale is focused on making the festive season as easy as possible for our shoppers. From best-selling products from leading brands, to attractive and affordable festival prices and competitive discounts from our participating banks, Snapdeal has everything you need to celebrate Diwali."
Latest News
Most Popular
Columns