The highly anticipated parallel two-cylinder 750cc engine from Royal Enfield has been spotted testing on the roads of Spain. The engine was fitted to the chassis of the Continental GT with some changes to accommodate the parallel twin. According to a report, Royal Enfield is expected to start production of the 750cc engine by last quarter of 2017.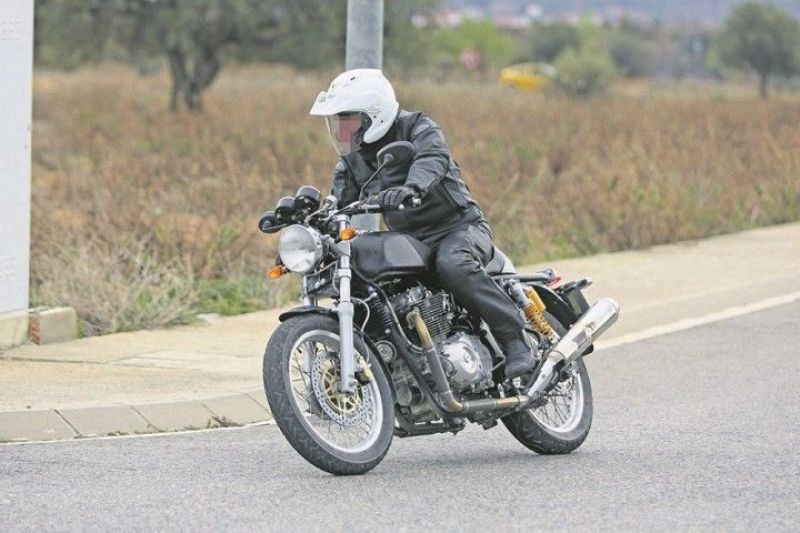 Looking at the spied images the test mule, as mentioned above, had the 750cc engine mounted on the retro-styled Continental GT motorcycle. The rear section of the bike has been reduced in order to compensate for the lengthened section for the bigger engine. It a common practice for a manufacturer to carry out tests of a new product by swapping then with existing components as it helps to reduce overall development costs and save time. Being a parallel-twin, the bike features dual side exhausts similar to the Triumph Bonneville modern classic range. The test bike was equipped with carburettors rather than fuel injectors which hint that the new engine is likely to be first introduced in the Indian market as it will comply with the emission norms.
The company has been tight-lipped about the details of the new engine and has also refused to comment on the test bike. Royal Enfield has been using the current single-cylinder engine for bikes which have been on the market for decades. The engine has been improvised with time and has been updated to be equipped with new equipment such as electric start, unit construction and fuel injection.
Speaking to MCN, Siddhartha Lal, CEO of Royal Enfield, said: "Royal Enfield is the most profitable motorcycle company in the world in terms of percentages and we are thinking broader and thinking globally as we want to be the world leader in the middleweight sector."
Source-MCN
Source: Zigwheels.com
...