With the introduction of the XC40, Volvo entered luxury compact SUV segment in the country in 2018. Here in India, it rivals other compact luxury SUVs like Audi Q3, Mercedes-Benz GLA and the BMW X1. Let's see how the the Volvo fares against the X1 in a real world performance comparison.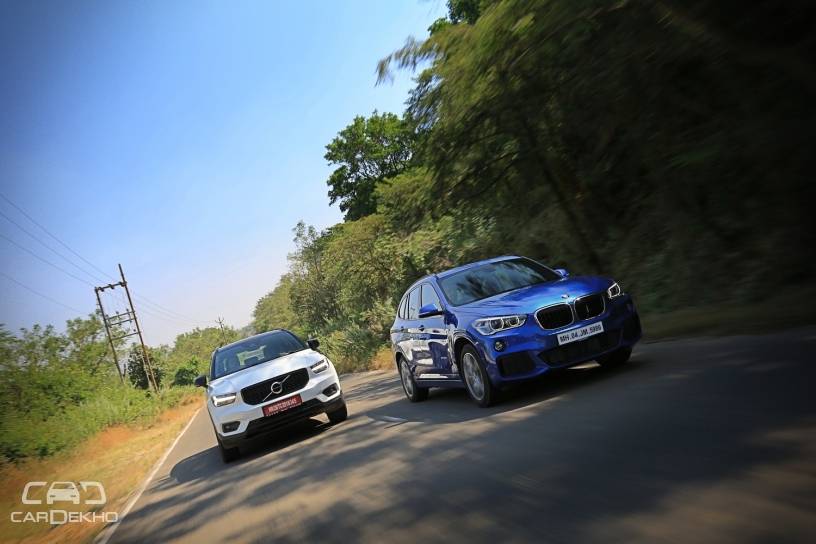 Volvo XC40 vs BMW X1
Before diving into real world figures let's see how the two compact SUVs fare on paper.
| | | |
| --- | --- | --- |
| | Volvo XC40 | BMW X1 |
| Engine | 2.0-litre | 2.0-litre |
| Power | 190PS | 190PS |
| Troque | 400Nm | 400Nm |
| Transmission | 8-speed AT | 8-speed AT |
On paper, both the compact luxury SUVs are evenly equipped. They both are powered by a 2.0-litre engines which produce an identical 190PS of power and 400Nm of torque and get an 8-speed automatic gearbox.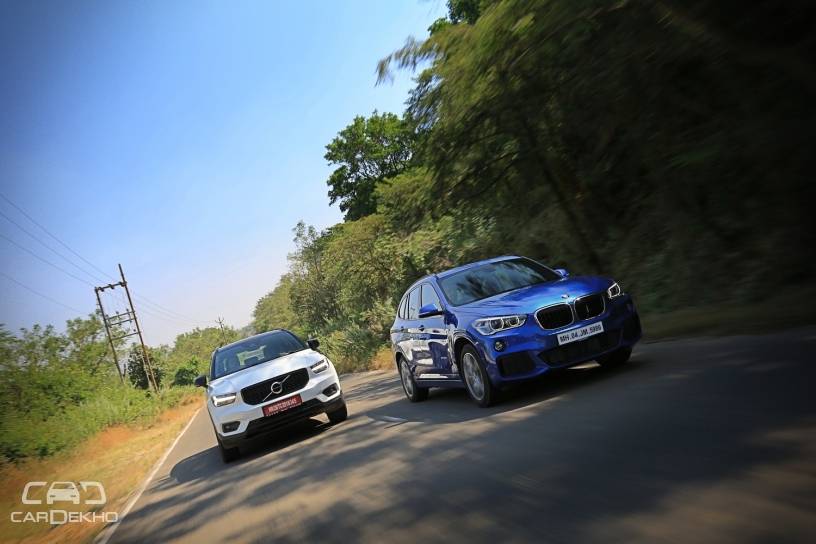 Performance Comparison:
Acceleration and Roll-on Tests:
| | | | |
| --- | --- | --- | --- |
| | 0-100kmph | Quarter Mile | Kick down (20-80kmph) |
| Volvo XC40 | 8.83s | 16.28s@136.75kmph | 6.05s |
| BMW X1 | 7.98s | 15.76s@141.02kmph | 5.47s |
Despite being powered by a similar engine-transmission combination, the BMW X1 is quicker than the XC40 on all three front. The difference is marginal though, it is courtesy of BMW's quicker 8-speed gearbox. The 8-speed unit for both the cars is sourced from Aisin but the Volvo's gearbox is tuned for relaxed driving. The quicker gearbox will sure give the BMW an edge on the track, but but won't have much effect in real-world use.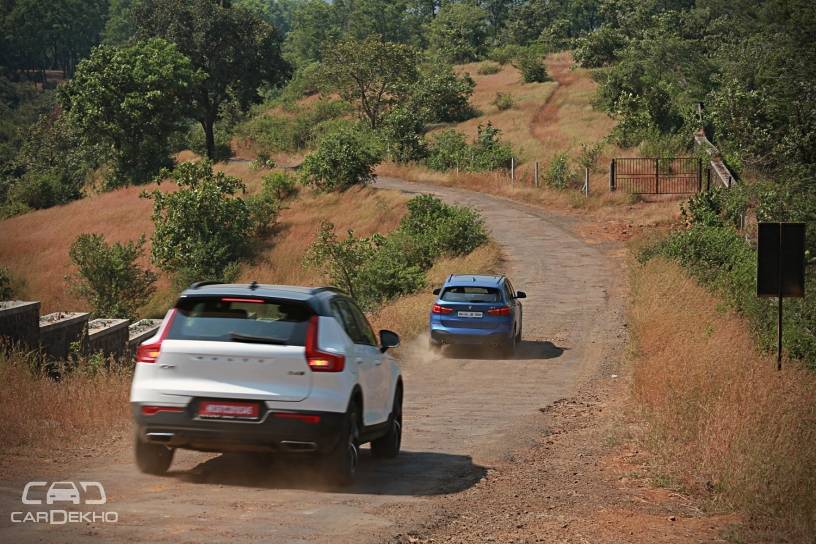 Braking Distance:
| | | |
| --- | --- | --- |
| | 100-0kmph | 80-0kmph |
| Volvo XC40 | 40.32m | 25.23m |
| BMW X1 | 43.37m | 26.70m |
While the BMW is better at gaining speed, Volvo is better at losing it. In both categories, the Volvo took less distance to stop compared to the BMW. Both the compact SUVs get disc brakes at both ends, and neither of the carmakers have revealed the kerb weight of their respective cars. If the BMW is heavier than the Volvo, that might be the reason behind it taking more distance to shed speed.
Also Read: Volvo XC40 vs BMW X1: Variants Comparison
Fuel Economy:
| | | |
| --- | --- | --- |
| | Volvo XC40 | BMW X1 |
| City | 13.56kmpl | 12.02kmpl |
| Highway | 20.03kmpl | 20.37kmpl |
The results are a mixed bag here. Where in city the Volvo is more frugal than the BMW, out on the highway, the BMW does an extra 0.34km for every litre of diesel it sips.
Let's take a look at this in terms of fuel expenses. Here's how much you'll have to spend on if you plan to clock an average of 1000km every month based on three different driving patterns (based on real-world fuel efficiency figures listed above). The calculation has been done considering the price of a litre of diesel at Rs 70.
| | | | |
| --- | --- | --- | --- |
| | 25% in city, 75% on highway | 50% in city, 50% on highway | 75% in city, 25% on highway |
| Volvo XC40 | Rs 3911.6 | Rs 4328.1 | Rs 4745.3 |
| BMW X1 | Rs 4032.7 | Rs 4629.8 | Rs 5266.2 |
From the above table, it is pretty clear the difference between the running cost of both cars is negligible (not more than Rs 521.2 /1000km). So, it won't make a big difference to your wallet if you want to buy the BMW for the slight extra performance it offers.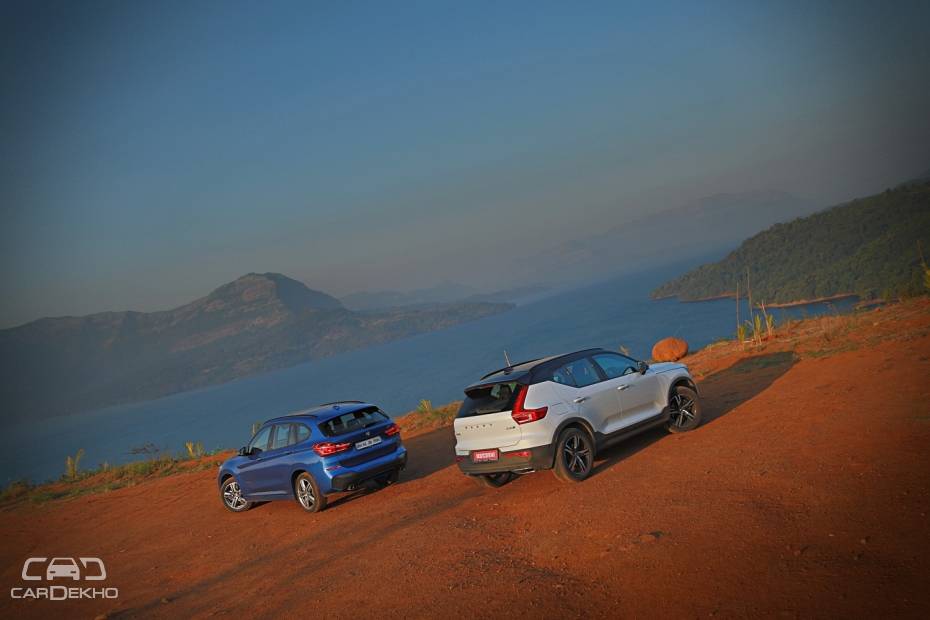 Verdict: The BMW beats the Volvo on the performance front, albeit marginally. However, when it comes to braking the Volvo takes the lead. In terms of fuel economy, while the Volvo is more frugal in the city, the BMW is more frugal on the highway.
Since, on the performance front both the compact SUVs are neck to neck, we will suggest you to make your decision on the basis of creature comforts and the value for money proposition. That said, if you still not sure about which of two should you go for, checkout our detailed comparison review here.
Also Read: 2019 Audi Q3 Unveiled; Will Take On BMW X1, Volvo XC40 And Mercedes-Benz GLA
Disclaimer: This article has not been edited by Deccan Chronicle and is taken from a syndicated feed. Photos: CarDekho.
...