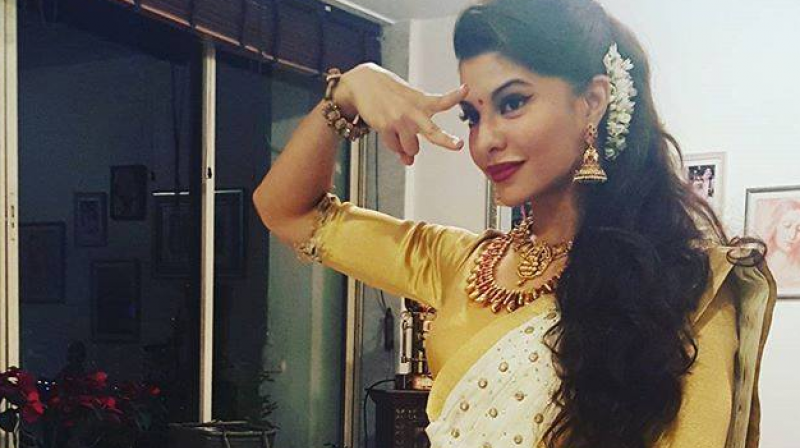 Whoever said that two actresses cannot be good friends off screen have to seriously rework that theory after seeing the bond between the recently-married Asin and Jacqueline Fernandez. The duo acted together in the hit film Housefull 2 and has remained thick friends since. And Jacqueline wanted to surprise Asin on her reception day and she hit on a perfect idea. Jacqueline decided to don traditional Kerala attire for the occasion and not only was Asin pleased as punch, Jacqueline herself was the cynosure of all eyes.
Jacqueline Fernandez and Poornima
All ardent fans of Jacqueline who follow her social networking site would surely have seen a recent video of her dressed in the Kerala attire, speaking in Malayalam asking "Enne kanaan bhangiyundo?" (Am I looking beautiful?) The stylist behind Jacqueline's beautiful cream and gold saree matched with traditional ornaments as well as her Malayalam is actress-turned -designer Poornima Indrajith, who runs her designer store Pranaah and is the leading stylist of many M' Town celebs.
Poornima Indrajith
Poornima explains the look she designed for Jacqueline, "I had styled her in a typical Kerala look. Jacqueline is very fond of the Kerala attire and whenever we talk about clothes, she always expresses her fondness for the mundum neriayathum and Kasavu saree. Rarely does she get a chance to wear the Kerala attire and she wanted the off white and gold combination. Normally, most North Indians associate the South Indian style with Kancheepurams and Jacqueline had seen me wearing the Kerala-style designer saree and she loved it. I wanted to give her something typically Kerala, but also an ensemble that would blend with her image without compromising the look that I wanted."
Poornima Indrajith
Poornima designed the half saree concept in off white and gold kasavu with lots of hand embroidery and the upper half had the Mohiniyattom drape that would make it easy for even a first-time user to don it. Poornima also lend the saree her personal touch and she explains how, "It is not only about the outfit; the accessories should also match. I carried my personal traditional ornaments like the manga and the naga mala and Jacqueline was game to try it out. She completed the outfit with strings of jasmine in her hair and a big red bindi and the compliments Jacqueline got made my day. She gave me credit and I would get my share of praise too! The best part was that Asin was so excited and she never expected Jacqueline to wear something like that."
Poornima adds that she wanted to make a point that South Indian traditional wear was not limited to only kancheepurams but also had other versatile pieces of clothing which she hopes she proved.
...