China was the winner in the US-N Korea Sentosa Summit
DECCAN CHRONICLE | R Mohan
Published on: June 18, 2018 | Updated on: June 18, 2018
---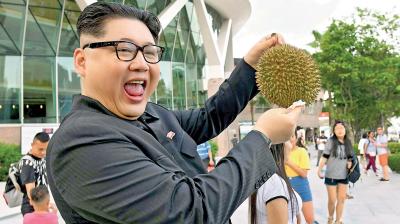 Who was the winner at Sentosa? Not Donald Trump who came away as if he was a Roman warrior returning triumphant from combat. But this was only him playing true to the form book, and with his typical swagger too. He considers himself the winner regardless. It was more likely that Kim Jong-un, dynast of notoriously brutal dictator lineage, emerged with the first prize which was international recognition for his country, for long the global untouchable.
In the great contest of theatricals, it was Kim who shone, although his haircut is not to be recommended even in this quirky world of modern hairdos of the weird types that sportsmen seem to discover these days. Denuclearisation may have been mentioned in the 41-minute face-to-face meeting that was supposed to have broken the ice between 'Rocket Man' who had threatened the US and the 'dotard' who sought to nuke him off the face of the earth. When the dismantling of nuclear weaponry would take place and whether it would be verifiable is open to question.
I am not certain this is a quirk of history, but it does show that the United States, the harbinger of great personal freedoms, should have been more comfortable with dictators than the leaders of democracies. It is possible this flows from the power theory that it is easier to control one person than millions of free people with vastly different opinions. Which is why the likes of Saudi Arabia and Pakistan were always seen to be closer to those making US policy than their more democratic neighbours further east.
Now that he has become best friends with another of the world's most powerful men, Kim might easily fit into the category of friends of USA and never mind if he may have tucked away several nuclear sites while publicly destroying one to please the world. Donald trumpeted that there is going to be a new history to be made with North Korea even as the old one has been torn up after just one meeting.
If these dramatic events were to be taken at face value, we could say that Trump had succeeded line none other at a summit. Not so John F Kennedy who met Nikita Khruschchev in Vienna in 1961 and found the Russian wagging his finger at him during a lunchtime stroll. "Worst thing in my life. He savaged me," the suave Bostonian confessed in an interview to Time. Ï never met a man like this." Even Richard Nixon could claim to have been far more successful when he met Mao Zedong for a week in 1972. The Nixon-Mao meeting brought down the 'Bamboo Curtain' although the summit also marked the rise of China as a world power.
Talking of change, it is rum irony then that Trump left his friends fuming in Quebec about definitions of free trade, which the US president wishes to upturn because he has this 'America First' policy and who can argue with him about that? The point is he is prepared to throw the world into turmoil, including the cream of Europe, all allies who have been with the US at least in the seven decades plus since the end of the war, if not for much longer like some of them. This is more like demolition derby kind of diplomacy. However, we couldn't have expected better from a real estate mogul who came into the limelight even more with reality television.
The picture that went viral and was adapted in so many different ways, including in the depiction of the Last Supper, said it best of the heartaches in the gathering at which one man's intransigence seemed to affect everyone else. And we are talking of world leaders here, not some local caucus struggling to find a consensus for the common good. It is amazing how one man has changed the world, even if he is one of the world's most powerful and holds that potential power to change things. There is, of course, much derision over the G-7 ties going so sour as it is believed that Canada wanted only to keep its clean air and its green environment.
Looking at it dispassionately, the elephant in the room was what gained the most from the Sentosa Summit. China, now the world's largest economy after overtaking the United States, has for long been wary of South Korea being close buddies with the US while being situated in its continent and a neighbor at that. Now, with the US cancelling certain joint military exercises and seemingly capable of abandoning allies like South Korea and Japan in a strategic part of the world, it does appear that China becomes even stronger. An isolationist US under Donald Trump can mean only one thing - Xi is the most powerful man in the world now. He could say thank you to Kim for bringing this about in under 41 minutes.
(R. Mohan is the Resident Editor of the Chennai and Tamil Nadu editions of Deccan Chronicle)