4 more US states sue Trump admin over amnesty program DACA
DECCAN CHRONICLE | DC Correspondent
Published on: September 12, 2017 | Updated on: September 12, 2017
---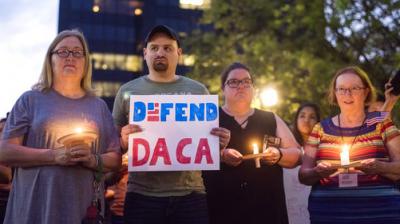 Los Angeles: Four more US states announced Monday they are suing the Trump administration over its decision to rescind a program that deferred deportations of immigrants who arrived illegally as children.
The attorneys general of California, Maine, Maryland and Minnesota filed a joint lawsuit at a federal court in northern California, following a similar decision last week by a coalition of 15 states as well as the District of Colombia that houses the capital Washington.
California Attorney General Xavier Becerra said the program "has allowed more than 800,000 Dreamers, children brought to this country without documentation, to come out of the shadows and become successful and productive Americans."
President Donald Trump abrogated on Tuesday an order issued in 2012 by his predecessor Barack Obama that had granted the migrants temporary legal status as part of The Deferred Action for Childhood Arrival program (DACA).
Unless Congress passes an immigrant reform bill, the "dreamers" will in six months be forced to live in the shadows, or risk deportation.
"One in four of those DACA Dreamers know California as home, and it's no coincidence that our great state is the sixth largest economy in the world," Becerra said.
According to a study published in January by the Center for American Progress, ending DACA could cost California as much as $11.3 billion a year, more than any other state.
The complaint noted that the decision to end the program may lead to the administration reneging "on the promise it made to Dreamers and their employers that information they gave to the government for their participation in the program will not be used to deport them or prosecute their employers."
Using information provided by migrants in good faith risks violating the Fifth Amendment of the US Constitution, which guarantees due process, it added.
The practice also ignores the government's legal obligations to analyze the effects of proposed changes to small businesses, "many of which are owned by, or employ, Dreamers," according to the complaint.
The decision was strongly criticized by Democrats but also some Republicans. Protests broke out across the country and thousands of people took part in a demonstration in Los Angeles on Sunday.