Vignettes from in and around Gothenburg
DECCAN CHRONICLE | Priya Pathiyan
Published on: October 20, 2018 | Updated on: October 20, 2018
---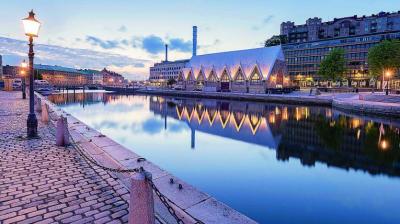 You've heard enough of Swedish design and ABBA and meatballs. Instead of getting stuck in the Stockholm syndrome, let this writer take you on a journey of the West coast of this stunning Scandinavian country through her own prism of experience.
Travelling 6400 kms away to set up home in a new country that I'd never even visited? 'Sure, why not? I can do that,' I thought. I started to read up on Gothenburg, Sweden's second largest city and home to the massive Volvo group HQ, the company where my husband works (and the reason we were embarking on this adventure in the first place). One of the first fascinating things that I came across was the story of an Indian artist named Pradyumna Kumar Mahanandia who made this same journey in 1977, getting there on a secondhand bicycle in four months and three weeks just to meet his lady love, a Swedish woman named Charlotte Von Schedvin. If he could do it on a bike 40 years ago, so could I, I reasoned. All I had to do was pack up all my stuff and board a couple of flights with my significant other! Here are some of my experiences from this life-changing trip…
Forest of Stendammen, Svartedalen pic by Kjell Holmner, Goteborg & Co
We've just got settled into my new home in Gothenburg (the locals call it Göteborg). I'm thrilled because it's a beautiful apartment at the very heart of the city, right across a famous statue of Poseidon in the area called Götaplatsen! It seems this historic plaza and all the iconic buildings outside my front door — the Gothenburg Museum of Art, the City Theatre and the Concert Hall — were inaugurated during the world's fair in 1923, also the city's 300th anniversary.
Kungsportsplatsen, pic by Per Pixel Petersson, Goteborg & Co
Avenyn, a beautiful 19th century boulevard that's considered the Champs-Élysées of this Scandinavian city, starts from outside our building. For others, it's all about high-end shopping and sitting in the sunshine at street-side cafes. Me, I'm heading to the local Coop here to buy my groceries. Tomorrow, I'll venture further and further into this fascinating city.
It's spring and the skies are getting bluer every day and I spot flower buds sprouting and more smiles everywhere. Along with the green shoots in the parks, I spy an impressive copper statue of a man astride a horse at Kungsportsplatsen. It's a 114-year-old depiction of King Karl IX, founder of the first city of Gothenburg in 1607.
Vinga island on the Southern Archipelago Pic by Frida WinterGoteborg & Co
While the rest of Sweden loves its meatballs and lingonberry jam, the West coast is crazy about fresh seafood. Scandinavia's largest fish auction is held in this harbor and when we step out for date night, we indulge in some Norwegian salmon, barely kissed by the flame as it's freshly taken from the sea only four hours ago! Seafood is almost a religion here so no wonder that the fish market hall that dates back to 1874 is called Feskekôrka (fish church) and actually resembles a church! A morning here can be the highlight of many a pescetarian's day.
I've just attended an orientation session that gave me interesting insights into the Swedish way of life. From the custom of drinking pea soup at home with family on Thursdays in winter and the ritual of fika with office colleagues every Friday through the year (more on that later). Of lagom, which means 'just right', not too much or too little. The lady explaining points to the length of her skirt to demonstrate! There are tips on acceptable social behaviour — everything from 'don't call attention to yourself', 'always join for coffee if invited by someone you know' to 'no sarcasm or irony'. Oops, too late for that, I think!
Inside the Fiskekyrkan Pic by Frida Winter, Goteborg & Co
I'm intrigued by fika. It's sacrosanct, it's convenient, it's ingenious. It's basically drinking coffee and eating sweet baked confections but the Swedes have evolved it into an art form, with its own rules. If two or more people get together for fika, they must remain undisturbed by the rest of their family or colleagues. A more new-agey trend allows you to fika by yourself too, an institutionalised version of 'me time'. In offices, the Friday fika is something that no one must forget. Lists are drawn up to decide which team is due to bring the cake. The early afternoon fika ritual subtly signifies the end of the work week and all conversations veer towards weekend plans (although, to be honest, these discussions usually begin by Wednesday!). Jokes apart, I deduce that this mingling and sharing is key in a culture where most people are otherwise quite low context.
We explore the charming neighbourhood called Haga to mark our 'first fika' together. The car-free area with cobblestoned-streets and tall houses flies banners bearing the legend 'Shopping and Fika Since 1634'. That's certainly a history of hedonism. And that's just what we do. After exploring all the elaborate antique stores, the hipsterish artisanal boutiques and the traditional shops selling handmade treasures, we sit down at a sunlit table outside a café to gorge on gorgeous cream pastries slathered with fresh berry compote washed down by aromatic coffee. And we talk. And we enjoy the companionable silence. And we sit some more and watch fat sparrows fly up to peck at our crumbs. And the fuss about fika suddenly makes sense.
The giant cinnamon buns from Café Husaren on Haga Nygata (it's the place where they were first made) are hot favourites, but we choose a smaller one of the sticky sweet rolls to take with us on our climb up the 100 steps up to Skansen Kronan, a small fortification crowning the top of the hill. From here, it's fun to see the way the city zigs and zags. In fact, an aerial view of Gothenburg reveals just how much the old part of the city has been influenced by its Dutch builders, with graceful canals and bridges crisscrossing to and fro.
Haga— pic by Frida Winter, Goteborg & Co
We head to the island of Marstrand, home to a fort, a very active harbour filled with private boats, as well as several beaches, some of which are clothing optional. Just a ferry ride to the North away from Gothenburg, we have a delightful day traipsing around the island, meeting friendly fluffy cats and just soaking in the serenity of this pleasure island that's been a favourite of Sweden's swish set for decades.
Our appetites for adventure on the sea whetted by Marstrand, we want to see why the islands of the archipelagos are considered so special. Of the two directions, we pick the Southern Archipelago as all the islands here are car free. The blue-and-white tram to the Saltholmen boat terminal and the ferry ride to various islands such as Köpstadsö, Styrsö Bratten, Styrsö Tången, Brännö, etc work like clockwork and there's a genteel charm in the way the crew and the islanders conduct their commute with absolute politeness. Once they reach their destination, the crowd disperses and almost disappears into thin air on bicycles! We are left to walk across the island in peace.
Agnholmen island near Saltholmen Pic by Per Pixel Petersson, Goteborg & Co
Brännö is all colourful wooden homes, hand-painted mailboxes and shy but smiling residents. At the harbour, the sea is so still it feels like it's holding its breath. The reflection of the sky in the glass-like surface of the ocean is like a dream within a dream. With not a soul other than us at the shore, there's a surreal sensation of having come to another planet. Afraid of breaking the spell the silence has cast around us, we slip away from the scene on tip toe. Later, we stop at Brännö Värdshus, a lively local bar that makes its own beer called - what else - Brännöl! But we prefer to savour the potent yet delicious brandy they bottle using St John's Wort that grows profusely around the island.
At home, I listen to radio stations play everything from Western classical to the most cutting-edge tracks. Sweden is big on music festivals too. Although I don't attend a concert, I have this aha-moment right in my home. I'm watching reruns of British home makeover shows wrapped up in my soft blankie on the couch. Suddenly, I can hear the strains of Sun is Shining wafting in on the still evening air, followed by an arena-full of cheers. I check online to see what's on at Ullevi, the largest outdoor stadium in Scandinavia, which is just a few kms away and realise that it's an Axwell Ingrosso show! This is the Swedish dance music DJ duo that made up two-thirds of the world-famous Swedish House Mafia whom I heard so much of back in India. Such islands of unexpected pleasure are characteristic of Sweden. From the apparent calm can burst forth unbridled joy, beauty, music. All you need to do is keep yourself open to the magic.
Forest of Stendammen, Svartedalen pic by Kjell Holmner, Goteborg & CoKungsportsplatsen, pic by Per Pixel Petersson, Goteborg & ConnnVinga island on the Southern Archipelago Pic by Frida WinterGoteborg & ComInside the Fiskekyrkan Pic by Frida Winter, Goteborg & CoHaga— pic by Frida Winter, Goteborg & CoAgnholmen island near Saltholmen Pic by Per Pixel Petersson, Goteborg & Co