Searching for Mr Right Now
DECCAN CHRONICLE | Suridhi Sharma
Published on: October 20, 2018 | Updated on: October 20, 2018
---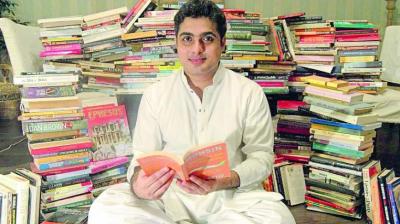 Pakistani Author Taha Kehar explores how the lives of modern women are a fine balancing act between ideas of modernity and tradition in his novel Typically Tanya.
Moving in and out of newsrooms in Pakistan, Taha Kehar had been writing about reality for far too long before Tanya Shaukat's character took root in his mind. The fiery young woman, who was also a reporter in a daily, demanded that he pick up his pen and write from his imagination. So began a journey of a modern Pakistani woman who is negotiating her life between the modern and the old.
Writing about the lives of modern women, Taha observed that one of the many challenges faced by modern women in Pakistan is grappling with age-old norms that are often at variance with their own belief system. "More often than not, unreasonable expectations are imposed on women to conform to stereotypical ideals and stifle their own individuality to serve a narrow, often male-centric purpose," he says, adding, "I cannot claim to speak on behalf of Indian women. But the Pakistani women I've encountered — whether they belong to urban settings or small villages — have the ability to push the boundaries in small and meaningful ways. They have left an indelible mark in the respective spheres and continue to inspire."
However, being a man, it's not always easy to write from a perspective of a woman. Taha had often heard that male writers rarely do justice to female characters and was concerned about making the same mistake. One night at the newsroom, Tanya's character sprung up in Taha's mind and over the next few weeks, he was able to weave together her insights, observations, political opinions and escapades into the first few chapters of a novel that later became Typically Tanya. "But I was still concerned that the male gaze had filtered through. I was more than willing to declare an early death sentence on the draft because I'd convinced myself that this wasn't my story to tell."
But there's usually a fine line between writing about women and telling a story from a woman's perspective, he feels. "So, I chose to write her story in the third-person. Fortunately, this approach didn't work out. It seemed that Tanya wanted her story told in her own distinct voice. And I didn't dare to argue with her," he says.
Taha shares that Tanya's character is the product of observations and ideas that he might have intuitively absorbed in the newsroom. "The people around me were never really a reference point or muse for any character in the book. Instead, they helped me give each character a much-needed reality check."
Typically Tanya by Taha Kehar Rs 299, pp 252 Harper Collins
While Typically Tanya explores the themes of freedom and negotiation, his book also looks at marriage and love. "Marriage and love still remain dominant themes in our lives. It is difficult to escape them because these concepts are ingrained in us and are often seen as antidotes that cure everything. In an increasingly competitive and fast-paced world, some people view marriage and love as sedatives that keep external worries at bay. A great deal of pressure is placed on these facets of our life and expectations are usually very high. As a result, love and marriage produce mixed results," he says.
He adds, "Romantic love comes and goes — it always has and will continue to do so. When it's fair and just, it seems worth it. When it isn't, it gives us an excuse to become more sensitive. Pop culture has a way of making everyone expect love to just happen to them. It's presented as a quick-fix that heals everything — an aspiration that gives people hope. We often forget that it takes time to fall in love and relationships need nurturing, attention and perseverance."
Typically Tanya doesn't glorify romantic love. Taha has tried to draw attention to some of the complications that love can produce. Tanya doesn't actively seek love. She'd rather search for 'Mr Right Now' and engage in fleeting romances. In fact, love is just a small fragment of her otherwise drama-choked life. But it doesn't mean that she's averse to it.
"In the earlier drafts, the protagonist came across as a bit more abrasive than she should have. My intention was to create a strong character who knew what she wanted — even if it got her into trouble. The initial drafts of the book achieved this purpose, they made Tanya seem a tad insensitive. I spent subsequent drafts trying to make her more likeable," he says.
Asked how much of Taha is there in Tanya, the writer says, "The similarities are truly uncanny. Tanya and I have both worked on the city edition of a daily newspaper in Karachi. We even live in the same neighbourhood. But I wouldn't say that any autobiographical elements have found their way into this."
Fiction gives Taha the space to inhabit different lives — some that are even better than his own, he shares. "It has even allowed me the liberty to get away with saying things that are controversial and risqué. It is my invisibility cloak — a shield that I can always rely on as I silently observe people and situations in an attempt to flesh out my characters."
Asked if he would want to write non-fiction in the future, he says, "It involves pulling off that invisibility cloak and getting into reporter mode. It requires expertise and a form of research engagement that is often quite daunting and time-consuming. Although the plight of the Rohingya community in the Arkanabad neighbourhood of Korangi in Karachi has always struck me as a suitable subject for non-fiction, I've struggled to find time to explore the idea. This is not to say that I'm reluctant to remove my invisibility cloak."