AIBA World Ch'ships: Mary Kom in quarters, Sarita bows out in controversial fashion
DECCAN CHRONICLE | DC Correspondent
Published on: November 18, 2018 | Updated on: November 18, 2018
---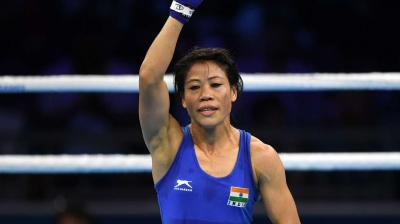 New Delhi: Five-time champion MC Mary Kom punched her way into the 48kg quarterfinals while another veteran Sarita Devi made an early exit after losing a controversial 60kg bout in the AIBA Women's World Championships here on Sunday.
Chasing a historic sixth gold and first medal since 2010, the 35-year-old Mary Kom registered a convincing 5-0 win over Aigerim Kessenayeva of Kazakhstan in her opening bout of the tournament.
The 36-year-old Sarita, who won a gold in the 2006 edition when it was also held in the Capital city, lost to 2016 World Champonships silver medallist Kellie Harrington of Ireland in a split 3-2 verdict.
Sarita, who got a standing count against her opponent in the third round, later said the decision was wrong. She, however, said that she will accept the decision as she does not want another ban.
The Manipuri was handed a one year ban by the world body AIBA for refusing to accept her bronze medal in protest during the victory ceremony at the 2014 Asian Games.
Besides Mary Kom, three other Indians -- Manisha Moun (54kg), Lovlina Borgohain (69kg) and Kachari Bhagyabati (81kg) -- also made it to the quarterfinals with 5-0, 5-0 and 4-1 wins on points in their respective pre-quarterfinal bouts.
Five Indians took the field on Sunday and only Sarita lost her bout. They are now just one step away from clinching a medal.
Mary Kom began with a watchful approach in the first round but she got to her rhythm with a left-right combination on her opponent in the second round. There were no many clear punches from both sides but the Manipuri, a mother of three, was clearly the better boxer with all the five judges giving their nod.
Four judges gave 30-27 each while one awarded 29-28 in favour of the Indian.
"It was a tough fight and there was a bit of pressure as it was my first bout of the tournament. I have been handling the pressure of expectation from the people of my country for the last 16 years and I am happy to face this pressure," said the Olympic bronze medallist.
Mary Kom next face Wu Yu of China in the quarterfinal on Tuesday.
"I think she is an intelligent boxer and fast also. I have to think about which technique I have to use," she said.
A win on Teusday will assure Mary Kom of at least a bronze medal which will be her first since 2010.
Sarita and Harrington traded a lot of punches in their lightweight pre-quarterfinal bout which was a fast and intense affair.
The veteran Indian, who also competed in the inaugural World Championships in 2001, expressed surprise when the Irishwoman was declared the winner.
"I am not happy with the decision (of the judges). The decision has gone 'ulta' (opposite), I thought I had the upperhand in all the three rounds. But what do I do, I was banned for one year after the 2014 Asian Games controversy. So, I cannot say anything now," she said after her bout.
"I don't know why these things happen to me only."
About the standing count against her in the third round, she said, "It was not a standing count. My opponent was a southpaw and her legs got entangled in between mine and I slipped and fell."

The day began on a happy note for India with Manisha sending reigning world champion Dina Zhalaman of Kazakhstan packing with yet another authoritative win in 54kg to place herself just a step away from grabbing a maiden medal.
The 20-year-old Manisha won a 5-0 unanimous verdict against her more experienced rival in a pre-quarterfinal bout in her maiden World Championships.
This was the second win of the Haryana girl against Zhalaman as she had defeated the Kazakh boxer in the Silesian Women's Boxing championship in Poland earlier this year.
In the quarterfinals, Manisha faces top seed and 2016 World Championships silver medallist Stoyka Petrova of Bulgaria.
"For me, once I am inside the ring it does not matter whether my opponent is a world champion or a silver medallist. So, my approach will be the same in my next bout also," she said.
"Today, like on my first bout, I played from a distance but I played faster and more aggressive. It was a good bout."
Borgohain, an Asian Championships bronze medallist last year, had a tougher fight against 2014 World Championships gold medallist Atheyna Bylon od Panama. It was a physical and aggressive fight and both the boxers fell on the floor on more than one occasion.
The 21-year-old Assamese next faces Scott Kaye Frances of Australia in the quarterfinals on Tuesday.
For Bhagyabati, it was even tougher against a taller opponent Irina-Nicoletta Schonberger of Germany. But the Indian also turned out winner in her debut World Championships bout.
She now faces Paola Jessica Caicedo of Columbia in the quarterfinals on Tuesday.