US forces, British divers join search for boys missing in Thailand cave
DECCAN CHRONICLE | DC Correspondent
Published on: June 28, 2018 | Updated on: June 28, 2018
---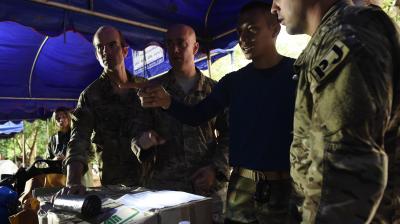 Chiang Rai: US forces and British divers have arrived in Thailand to help in the search for 12 schoolboys and their soccer coach believed trapped by floodwaters in a cave, as rescuers prepared to drill a shaft into the cave on the fifth day of the search.
Major Buncha Duriyapan, commander of the 37th Military District in Chiang Rai, said workers would drill down from the top of the Tham Luang cave complex in northern Chiang Rai province to create an alternative entrance for rescue workers.
"We will drill down from one of the chimneys," Buncha told reporters on Thursday.
"The expert divers went straight from the plane into the cave to make an assessment," he said, referring to the three British divers who landed in Thailand on Wednesday.
Deputy Prime Minister Prawit Wongsuwan said 30 members of the United States Pacific Command (USPACOM) have joined the search operation.
"The United States Pacific Command (USPACOM) has sent 30 staff with equipment to help penetrate the cave walls," Prawit told reporters.
Search efforts, which have included Thailand's elite navy SEAL unit, have been hampered by heavy rain and flooding inside the cave where the boys, aged between 11 and 16, and their 25-year-old assistant coach went missing on Saturday.
Rescue workers on Thursday scoured the top of the mountain looking for alternative entrances to the cave, according to a Reuters reporter at the scene.
Thai National Deputy Police Chief Wirachai Songmetta said police officers would explore a one kms path to the right of the cave on Thursday.
So far, rescue teams have been focussing on a seven kms (four mile) long route to the left of the cave's entrance which they believe the boys and their coach took.
Authorities say they're optimistic the boys are still alive, but the toll of five days of no news was visible on the faces of the boys' relatives.
Family members, red-eyed from crying, said prayers on Thursday near the cave, led by a saffron-robed Buddhist monk.
"Observe your breath in this place of love. Love between mother, father and child," the monk told anxious relatives.
"Do not worry and wait for good news."