Virender Sehwag trolls Piers Morgan after India's Kabaddi World Cup win
DECCAN CHRONICLE | DC Correspondent
Published on: October 23, 2016 | Updated on: October 23, 2016
---
Mumbai: Another shot has been fired in the Twitter battle between Virender Sehwag and Piers Morgan. On Saturday, It was the legendary Indian batsman, who took a dig at Morgan.
Sehwag Tweeted immediately after India lifted the 2016 Kabaddi World Cup. The batsman congratulated team India and took a slight dig at Morgan.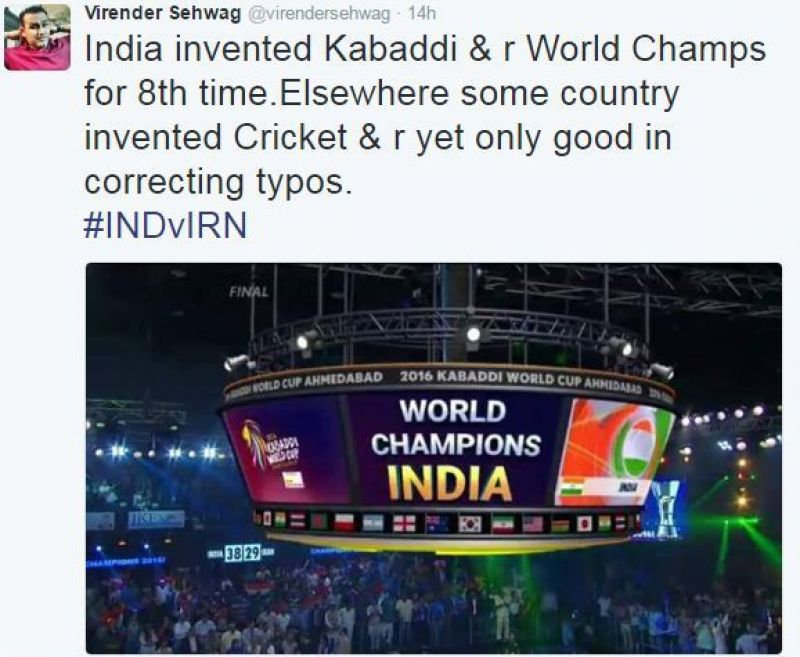 The use of word 'typo' in the Tweet is a reference to Morgan's earlier tweet about Kabaddi.
Morgan was not going to remain silent. He shot back, saying Kabaddi's not really a sport.

Sehwag had earlier got into a spat with Morgan on Twitter when India defeated England in the Kabaddi World Cup.
"England loose in a World Cup again. Only the sport changes.This time it's Kabaddi. India thrash them 69-18. All the best for semis," wrote Sehwag.
The tweet did not go down well with Morgan, who pointed out Sehwag's mistake in using the word 'loose' instead of 'lose.'