Dumped via text message! KKR release Aussie pacer Mitchell Starc ahead of IPL 2019
DECCAN CHRONICLE | DC Correspondent
Published on: November 14, 2018 | Updated on: November 15, 2018
---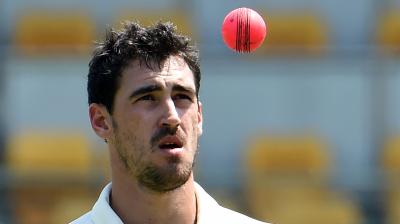 London: Australian fast bowler Mitchell Starc has been released from his Indian Premier League (IPL) contract with Kolkata Knight Riders ahead of the upcoming Ashes series and 2019 cricket World Cup.
Confirming the same, the 28-year-old said that he is looking to focus more on Test and one-day cricket at the moment. He further stated that IPL is a "lovely bonus on the pay packet" but he opted to play more Test matches.
"I got a text message two days ago from the owners of Kolkata saying I've been released from my contract, so at the moment I'll be home in April," ESPNcricinfo quoted Starc, as saying.
"When you look at some of the dollars involved in the IPL and some for the T20 leagues around the world, for guys who might be on the fringe or what to concentrate on T20 cricket, it's very beneficial to play.
"At the moment for me I just want to play as much Test and one-day cricket as I can, and the IPL is a lovely bonus on the pay packet, but if I miss that to play more Test matches, I'm taking that option," he added.
Speaking about his preferred format of the game, the pacer chose Test cricket while saying that one has to "change with different times of the year."
"Test cricket is definitely the No. 1 for me, but I'm playing one-day cricket as well and that's another format that I love and we've got a World Cup coming up next year as well. I love playing Shield cricket, love playing Test match cricket, you can't play every game on the schedule, it's keeping one eye on what's coming up and that's a massive Test series," he said.
"So for us its preparing through Shield cricket and heading into the back end of the summer come February and March, it's a lot of one-day cricket heading into that World Cup. So you do have to change with different times of the year," he added.
Recently, Indian skipper Virat Kohli had reportedly suggested that their fast bowlers should skip the 2019 edition of the IPL to focus on the World Cup.
The World Cup is slated to be held from May 30 to July 14 in England, while the IPL is likely to be held from first week of April to the third week of May.