England will find India tougher than Australia, says Virat Kohli ahead of T20 series
DECCAN CHRONICLE | DC Correspondent
Published on: July 3, 2018 | Updated on: July 3, 2018
---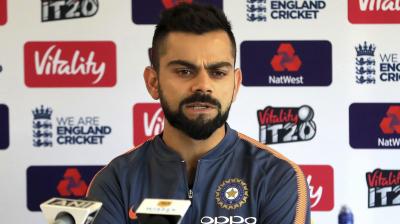 Manchester: India will provide far stiffer opposition for England than Australia did when it was whitewashed 5-0 in a one-day series then thrashed in a Twenty20 match, Indian captain Virat Kohli said Monday.
Kohli said his squad was expecting a tough battle against England in their upcoming three-match T20 series, which begins at Old Trafford on Tuesday, as well as in five Tests and three ODIs that will keep them in England until September.
While England impressed against Australia, the tourists were without a raft of first choice players including former captain Steve Smith and his deputy David Warner, who are serving one-year bans for their roles in March's ball-tampering scandal.
"We definitely are," Kohli said when asked whether India had a stronger outfit than Australia at his eve-of-match press conference.
"We believe in our abilities, and we obviously have a lot of Twenty20 experience.
"We've just come off the IPL (Indian Premier League) and a couple of games against Ireland as well -- where the team has looked great."
Kohli, who scored 455 runs in 11 limited overs matches in the 2017-18 season, expects a confident England to burst out of the blocks.
"We expect England to come hard at us, and we certainly want to play some positive and hard-fought cricket," said Kohli.
"It's going to be an exciting series, and we believe we have the side to put up a great fight -- and if we win the crucial moments then anything can happen," added the 29-year-old.
His England counterpart Eoin Morgan said regardless of Australia's side being under-strength, his side had come out of it with many positives to take into the India series.
"I don't think it's a case of putting (victory over Australia) to one side when there are huge positives to take from the series," said the 31-year-old Irishman.
"I think you can use a lot of that, confidence and experience-wise."
"Having had a few days off and time to reflect on the series, it's something we can call upon -- and might need to in either series, the Twenty20 or the ODIs, when our backs are against the wall.
"I think it's important."