Victory for realpolitik as a huge gamble pays off
DECCAN CHRONICLE | Vishnu Prakash
Published on: June 14, 2018 | Updated on: June 14, 2018
---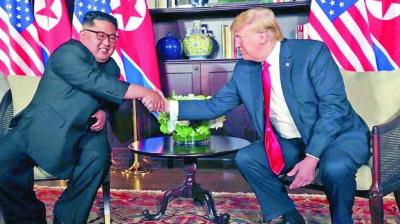 The historic summit at Singapore's Sentosa island that US President Donald Trump and North Korea's Chairman Kim Jong-un held earlier this week had been in the making for at least three decades. The leadership of the Democratic People's Republic of Korea (DPRK) had been craving for a face-to-face meeting with the American President for long, but had been rebuffed. It took a maverick White House occupant and a master strategist in Pyongyang, half the former's age, to finally make it happen. It demonstrated once again that diplomacy was indeed the art of the possible! As Chairman Kim observed in Singapore, there were many obstacles in the way. However, the protagonists, including South Korea's President Moon Jae-in, persevered during the preceding 14 agonising weeks. A series of bilateral meetings took place between the leaders, officials and negotiators of the three nations, some announced and some not — Mr Moon and Mr Kim held two inter-Korean summits in April and May (only the third and fourth such in Korean history) to establish the contours of the agenda. Mr Moon was in constant contact with Mr Trump and also travelled to Washington in late May. US secretary of state Mike Pompeo met Kim Jong-un twice in Pyongyang in April and May 2018.
Yet it was an uphill task in every respect. One, there was (and is) a massive trust deficit between Pyongyang and Washington. Two, Mr Trump and Mr Kim had been trading insults and threats throughout 2017. Three, defying the US and the UN Security Council, Mr Kim was rapidly ramping up his nation's nuclear and ballistic missile programme. Four, the US was making maximalist demands on the DPRK during the run-up to the summit. Five, hawks like US vice-president Mike Pence, Mr Pompeo and national security adviser John Bolton, who stood for regime change in Pyongyang, were calling the shots in Washington. For three decades efforts had been underway to disarm the DPRK. In 1994, an "agreed framework" was signed between the US and DPRK, which envisaged Pyongyang giving up its nuclear programme in return for substantial economic and energy assistance. However, neither side acted in good faith and made only half-hearted attempts to do its part. It since transpires that the Americans (including then President Bill Clinton) believed that the Kim regime would not survive very long. Next, President George W. Bush included the DPRK in his "Axis of Evil". The deal naturally collapsed. The fate of the Six-Party Talks hosted by China from 2003 to 2009 was quite similar. Meanwhile, Pyongyang went nuclear in 2006.
The year 2017 was particularly tumultuous for the Korean Peninsula. President Trump, who came to office in January, promptly discarded his predecessor Barack Obama's policy of "strategic patience" towards DPRK and went for its jugular by applying "maximum pressure". A series of debilitating UNSC and US sanctions were imposed. Mr Trump threatened a "major, major conflict". Both sides engaged in a intemperate slanging match. China, the DPRK's sole benefactor, too was forced to endorse the sanctions, which it did (albeit sporadically). However, Mr Kim was unfazed. He doubled down on upgrading his weapons of mass destruction arsenal, successfully testing its most powerful nuclear device and an ICBM (intercontinental ballistic missile) with a range of 13,000 km and thus capable of reaching the American mainland. Having developed a nuclear deterrent to ensue regime safety, Mr Kim surprised the world with a dramatic peace overture on New Year's Day 2018. He offered dialogue and disarmament, in exchange for "security guarantees", lifting of sanctions and development assistance. He announced a moratorium on further WMD testing. With one bold move he virtually transformed the atmospherics overnight. Inter-Korean and US-DPRK ties saw a rapid thaw. Incredibly, President Trump also agreed to meet Chairman Kim.
Nevertheless, the US started demanding a commitment from the DPRK to undertake "complete, verifiable and irreversible disarmament" upfront. This was a deal-breaker for Kim. Having studied the fate of Saddam Hussein and Muammar Gaddafi, and also being aware of US fickleness, Pyongyang was not willing to surrender its only trump card, which was its insurance against regime change. The Washington hawks even threatened a Libya-like fate for DPRK if it did not relent, but Mr Kim was unfazed. President Trump actually cancelled the Singapore summit on May 24, but then restored it within 36 hours due to the DPRK's composed response that Mr Kim was willing to meet him anytime. Mr Trump was also forced to concede that denuclearisation was a "process" which would need some time. President Trump, who had abandoned the Iran nuclear deal and the Trans-Pacific Partnership, dissed the Paris climate change agreement and damaged US equations with most American allies, was anxious on crafting a major success story. He sensed such an opportunity with the DPRK and went all out to grab it. Unusual for a sitting American President, he positioned himself in Singapore some 36 hours ahead of the summit. By now an impression was gaining ground that a successful outcome had been pre-scripted, and it was indeed so.
The leaders met warmly, held a 41-minute one-on-one chat and delegation-level talks which continued over lunch. Later, they signed a short joint statement, the highlights of which include:
Both sides commit to establish a new US-DPRK relationship
The US will provide security guarantees to DPRK
Chairman Kim reaffirms his commitment to complete denuclearisation of the Korean Peninsula
Both sides will join efforts to build a lasting and stable peace in the Korean peninsula
During his press conference, later in the day, Mr Trump disclosed that the annual US-South Korea joint military exercises would be discontinued, which were seen as provocative by DPRK. Second, sanctions would stay till denuclearisation was achieved. Third, Kim Jong-un could be invited for a Washington summit at a suitable time. The summit represented a triumph of dialogue over confrontation and that of realpolitik over posturing. The critics note, however, that the understanding was vague, short on specifics and bereft of timelines, except stating that it would be implemented expeditiously. Mr Trump also seemed to have given away the store without anything concrete in return. Mr Kim appeared the winner at first glance. Yet, the fact remains that Mr Trump displayed courage and realism, greatly enhancing the prospects of the arrangement to succeed.