Delhiberations: Why India, Pak can't do a Trump-Kim on J&K
DECCAN CHRONICLE | Padma Rao Sundarji
Published on: June 12, 2018 | Updated on: June 12, 2018
---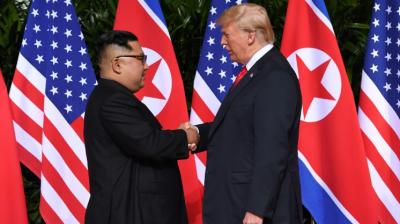 America's President Donald Trump and North Korean leader Kim Jong-un will go down in history for making a fresh chunk of it. Whatever emerges in the coming weeks and whether the deal self-aborts or not, the sun did rise in the west and set in the east on Tuesday. Of course, it was a given that Mr Trump's detractors would immediately poke holes in the agreement signed between the two leaders in Singapore. They say the deal is one-sided and that Mr Kim is nobody's fool to agree to complete de-nuclearisation, if the US will not remove itself from the neighbourhood simultaneously. They also point to the seeming hypocrisy in Mr Trump praising Mr Kim as a bright young man, while pushing the lid of crippling sanctions only tighter down on impoverished North Korea. But sour grapes are always unpalatable for those who don't know what to make of them. Mr Trump and Mr Kim seem to have a recipe — and no matter how tart it tastes, nobody can take that away from the two men.
South Asian social media commentators, however, are asking a different question. Perhaps sensing a common denominator between the much-mentioned "unpredictability" of both protagonists in Singapore this week and Prime Minister Narendra Modi, who too has been given to flamboyant, out-of-the-box gestures and initiatives on the foreign policy front over the past four years, they're wondering: Can India and Pakistan do a Trump-Kim over Kashmir? Setting aside the new, cacophonic brands of both rabidly intolerant "secularists" and "nationalists", there are many reasons why the expectation is off the mark. North Korea may be the site and venue of the worst pogroms upon its own people and the alienated product of a debilitating war, that left the Korean peninsula divided and thousands killed 70 years ago. Pyongyang has indeed attacked ships, slugged shells at South Korean border villages with civilian populations and bullied many of its neighbours with the sense of power and dread that nuclear weapons endow their owners and potential victims with, respectively.
South Korea may be a US ally, but it is not the United States, represented by the man who shook hands with Mr Kim Jong-un on Tuesday. It is hardly conceivable that Mr Trump or any US President would have displayed the same bonhomie and shaken the hand of Osama bin Laden on the heels of the 9/11 attacks in the United States, in which thousands of civilians were killed. Instead they pursued and killed him and tossed his body into the sea. Also remember what happened to Libya's Col. Muammar Gaddafi and Iraq's Saddam Hussein, despite much talk of breakthroughs. Pakistan, on the other hand, borders India and makes plenty of maleficent use of that proximity. It has made cross-border terrorism a state policy, ostensibly to "free" Jammu and Kashmir. Former PM Atal Behari Vajpayee did undertake a famously well-meaning trip across the border to shake hands with Pakistan PM Nawaz Sharif in early 1999. Nobody knew, of course, exactly what was taking place up in Kargil at the very same time, amply aided and abetted by Pakistan's own armed forces. The infiltration of dozens of armed terrorists trained and supported by Pakistan culminated in the Kargil war just months later.
The list of attacks executed by the likes of Lashkar-e-Tayyaba, Jaish-e-Mohammed and other globally proscribed Pakistani terrorist-citizens is too long to accommodate here. These criminal groups are now seeking and may well be given political legitimacy in Pakistan's general election next month. Given these experiences and be it Narendra Modi, Rahul Gandhi or any other Indian politician, a handshake with a Pakistan government that supports terror or — worse — with a terrorist-turned-elected MP like Hafiz Saeed remains completely unthinkable. Then there is the inherent difference in the core issues. North Korea has maritime claims and disputes in the Yellow Sea and Sea of Japan and the peninsula has, like India and Pakistan, the disputed Northern Limit Line. In other words, Pyongyang's territorial squabbles too are with its immediate neighbours — mostly US allies, but not with the United States over some part of sovereign US territory itself. Pakistan claims India's J&K, has come to the negotiating table on several occasions but has reneged time and again by keeping up the flow of terror to slaughter civilians in India. Even if cross-border terror is miraculously halted, it's hardly likely any Indian head of government, no matter how mercurial, would commit political hara-kiri by extending a hand, as long as that territorial claim over J&K alone exists.
US President Donald Trump relished his big day in Singapore and was unusually garrulous at his press conference. As far as he is concerned, the agreement seems a win-win. But it leaves most of the steep, uphill climb to Kim Jong-un himself. It's Mr Kim who has reportedly agreed to denuclearise, not the United States, which will merely tone down its regional military exercises. It's South Korea and Japan who will bear the expenses for Mr Kim to dismantle his nukes, not the American people. And its Mr Kim who will have to convince his people to grin and bear crippling US sanctions for the many months and years it will take to do so. The North Korean leader will have to convince his starving and angry people that the man who turned the tap off is really "an honourable man" who will surely come through on America's promises, that so far remain undefined. India is far from impoverished. And — buffered by many global powers including the US, which pumps money into whichever country it needs for its own pursuits — neither is Pakistan.
If India's cold-shouldering the South Asian regional grouping Saarc hasn't caused much damage to Pakistan (conversely bringing the other members closer to Islamabad and mulling the inclusion of China instead), India's most crippling sanctions will not either. Neither has India's attempt to circumvent Pakistan to trade directly with Afghanistan via Iran's India-built port of Chabahar caused too many ripples in the region, with Iran even inviting Islamabad to use its facilities. Finally, there's the question of mediation, interlocution, third-party hosts, call it what you will. The optics of the Trump-Kim meet were all about the two portly leaders alone. But it is common knowledge that from Sweden — the only Western country to have kept diplomatic relations with North Korea — to Japan, from China to South Korea (with Russia now eager to join the party), many countries have played major and minor roles in making Tuesday's historic meeting take place at all.
If there is one single concept that New Delhi will never agree to, it is the involvement of a third party or country — other than Kashmir's elected representatives and perhaps in due course its separatist-minded organisations — in talking Kashmir to Pakistan. The essential conflict between Pakistan and India is not, after all, over the two nations' nuclear programmes, information about which is reportedly exchanged as per international norms on a fairly frequent basis. It is over a territorial claim, a large and vital piece of land that belongs, both historically as well as through various global and bilateral agreements, to India. No matter how glamorous the international spotlight on a given Indian leader may be, New Delhi will never concede an inch, let alone go the extra mile.