Expect the unexpected at Trump-Kim meet
DECCAN CHRONICLE | Skand Tayal
Published on: June 11, 2018 | Updated on: June 11, 2018
---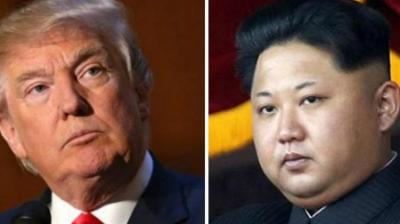 More than 3,000 media persons have descended on Singapore from around the world to cover the summit of the decade — the first face-to-face meeting between an American President Donald Trump and North Korean leader Kim Jong-un today (June 12). Over the past five months both Mr Trump and Mr Kim have repeatedly surprised the world, confounded the sceptics and often frustrated the optimists by their actions, tweets and statements. Following the classical negotiating strategy, both the US and North Korea have sought to gain the upper hand in preparing for the meeting. US national security adviser John Bolton's advocacy of the Libyan model for de-nuclearisation was followed by vice-president Mike Pence's statement that if North Korea does not agree to de-nuclearisation, a Libya-like fate would befall that country. North Korea's angry reaction against these two key members of the Trump administration had led to the May 24 letter of Mr Trump to Mr Kim cancelling the June 12 summit, though he left the door ajar for a possible restoration of the meeting.
Shaken by this Trump bomb, South Korean President Moon Jae-in acted swiftly, held his second summit with the North Korean leader on May 26 and pleaded with Mr Trump to reopen negotiations with North Korea to prepare for the summit.
Since then, North Korea has refrained from any harsh criticism of the US or any of the top members of the Trump administration. The key players from the American side have also been restrained in their public remarks. Mr Trump's numerous tweets and impromptu remarks reveal his conviction that he holds all the cards. He has made his mission clear — the de-nuclearisation of North Korea. But he has refrained from using the term "complete, verifiable and irreversible", which is being repeated like a mantra by the US negotiators. Last week, the US President softened his position somewhat and acknowledged that complete de-nuclearisation may not be possible in one shot after one meeting, implying that this process may take some time. This evolution in Mr Trump's position shows that the North Korean position is being accommodated by the US.
Substantive negotiations between the two sides have been led by US secretary of state Mike Pompeo and Gen. Kim Yong-chol, vice-chairman of the North Korean Workers' Party central committee. The task of drafting an agreement started in Panmunjom, then shifted to New York and is now continuing in Singapore.
In the run-up to the summit, North Korea has already achieved one of its main objectives — equality in status with the US. If US emissary Mike Pompeo was twice granted an audience by Mr Kim, North Korea's lead negotiator Gen. Kim was also received by Mr Trump in the Oval Office of the White House on June 1. It is reported that the US negotiating team has developed more than a dozen different scenarios for the actual summit deliberations. It is widely believed, and Mr Trump also hinted, that a peace treaty in some form would be finalised between the US and North Korea. According to Mr Trump, this would be the easy part. Whether South Korea would also be a party of the expected peace treaty on the Korean peninsula remains to be seen. However, the success or failure of the summit would hinge on the definition, pace and elements of the process of de-nuclearisation involving both North Korea and the Korean peninsula. The creation of a nuclear weapons-free zone in and around the Korean peninsula would have limited value as nuclear weapons can easily be delivered by long-range bombers and missiles.
A key issue would be the nature of iron-clad guarantees for regime survival which would satisfy a paranoid North Korean government in the backdrop of the West's betrayal of Libya and Mr Trump's walking out of the nuclear deal with Iran. Would there be co-guarantors like China and Russia? North Korea's record after the US-China détente in 1970s has been to rely on its own strength, and it would go against its fiercely-preserved independence to rely on any other country for its continuation as a sovereign state. There are other issues of primary concern to other major players. China will have urged North Korea to insist on removal of THAAD batteries from South Korea, cessation of US-South Korea military exercises and a drastic reduction in the number of US troops in South Korea. Japanese Prime Minister Shinzo Abe met the US President on June 7, to plead for inclusion of the issue of abductees on the summit agenda.
Given his track record, Mr Trump is likely to follow an "America First" policy at the summit. This would imply that North Korea gives up ICBMs capacity immediately so that "candidate" Trump's campaign promise of not allowing a North Korean nuclear threat to the US mainland is achieved. De-nuclearisation itself would be a process and its steps, timeline and reciprocal actions by the US and the UN Security Council would be subject of hard negotiations. North Korea's immediate objective would be some relaxation in the tough economic sanctions that are hurting its economy. An editorial in North Korean official mouthpiece Rodong Sinmun yesterday informed North Koreans that "we will establish a new relationship (with the US) to meet the changing demands of a new era". Setting its own version of the summit agenda, it said that "broad and in-depth (opinions would be exchanged) to establish a permanent and peaceful regime in the Korean peninsula, including issues to realise the de-nuclearisation of the Korean peninsula".
Earlier on Sunday (June 10), President Trump had stated that he would assess in the first few minutes whether it would be worthwhile to talk. He declared his intention to walk out if his demands were not met. Mr Trump is quite capable of walking out as was seen from his tough and uncompromising stance at the G-7 summit in Canada a day before (June 9). Any such dramatic breakdown would play very well with President Trump's base back home and will be of great satisfaction to national security adviser John Bolton. In the summit negotiations today, the tact, diplomatic skills and negotiating strategy of Mr Kim will be tested to the limit as he wants the UN sanctions to be relaxed. Mr Trump, on the other hand, can live with the status quo and his policy of "maximum pressure" since North Korea has already announced a moratorium on any further nuclear tests. According to South Korean reports, Mr Kim is scheduled to leave Singapore at 2 pm today. The summit is due to begin at 9 am local time in Singapore. The world would be well advised to expect the unexpected.