Dilli Ka Babu: No extension for Hasmukh Adhia?
DECCAN CHRONICLE | Dilip Cherian
Published on: November 10, 2018 | Updated on: November 10, 2018
---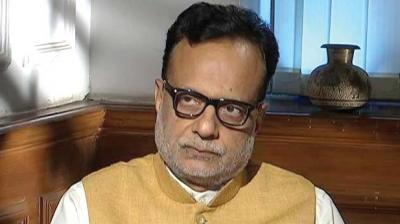 Despite earlier rumours it now looks like finance secretary Hasmukh Adhia, due to retire this month-end, may not get an extension. In the past, governments usually extended the tenure of secretaries in the finance ministry if their tenure was ending close to the presentation of the Union Budget.
In Mr Adhia's case, sources say, some elements in the government are reportedly not happy with the idea and nor had Mr Adhia indicated that he wants to continue in the post. So while it looks likely that Mr Adhia will retire, there is speculation about whether he will be given a post-retirement assignment.
All this talk is probably because Mr Adhia has drawn both admirers and detractors, within the government as well as outside. Many fault him for the botched demonetisation and faulty GST implementation. Despite this, PM Modi has continued to repose trust in the Gujarat-cadre IAS officer.
The next bureaucrat in line to be designated the finance secretary is expenditure secretary Ajay Narayan Jha, a 1982-batch Manipur cadre officer. It is also likely that Girish Chandra Murmu, a 1985-batch Gujarat-cadre officer could be the next revenue secretary.
Gujarat's bihar connection
Despite the fear-driven exodus from Gujarat of some Hindi-speaking people from Uttar Pradesh and Bihar after a rape incident in the state, the ties between the states remain strong, at least at the government level. At present, most of the top officers, including IAS and IPS officers in Gujarat, are from Bihar. The top three posts in the Gujarat government, that of the chief secretary, the director general of police (DGP) and the principal secretary to the chief minister are occupied by J.N. Singh, Shivanand Jha and Manoj Kumar Das, all from Bihar. Similarly, DGP (Prisons), Mohan Jha, is also from Bihar.
Chief secretary Singh, a 1983-batch IAS officer of Gujarat-cadre, and Shivanand Jha, also a 1983-batch IPS officer, are from Madhubani district in north Bihar. Similarly, Mohan Jha, a 1985-batch IPS officer, studied at Laheriasari (Darbhanga) in Bihar, while Mr Das is a 1990-batch IAS officer who earlier studied at Raj High School in Darbhanga.
It's not only the current crop of officers posted in Gujarat who hail from Bihar. Even earlier, Kishore Kunal, who served as senior SP (SSP) of Patna, IG and then OSD in the PMO, was a Gujarat-cadre IPS officer.