BDJS is part of Women Wall
DECCAN CHRONICLE | DC Correspondent
Published on: December 27, 2018 | Updated on: December 27, 2018
---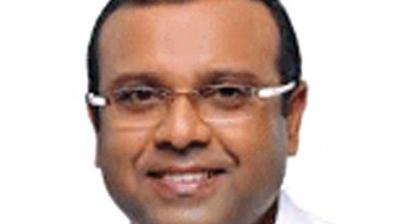 Thiruvananthapuram: BDJS state president Tushar Vellapally, who did not take part in Ayyappa Jyothi, has decided to take part in the Women's Wall called by the CPM-led government on January 1. The BDJS leader's move has left the BJP state leadership red-faced.
When the media realised that Tushar had not attended the statewide Ayyappa Jyothi on Wednesday, the media bombarded him with queries on Thursday morning.
He was caught off guard by the queries when he responded that he did not attend the Ayyappa Jyothi programme as it was not held under the aegis of NDA.
Later, SNDP Yogam general secretary Vellapally Natesan and his son and BDJS president Tushar Vellapally jointly held a press meet at their house at Alappuzha.
Tushar maintained that he was not aware of Ayyappa Jyothi being held on Wednesday across the State.
Mr Vellapally clarified that the SNDP Yogam will not take action on Yogam members who had taken part in Ayyappa Jyothi.
The senior Vellapally said that Women's Wall protest and Sabarimala should not be co-related as the Women's Wall protest is to highlight the renaissance values which are not attached to a particular religion.
At the same time, Mr Tushar clarified that he got the invitation from the BJP state leadership to attend Ayyappa Jyothi only on the previous day afternoon.
"I had decided to attend the Women Wall protest being organised by the CPM on January 1. It should be recalled that the Women's Wall protest is not against the Sabarimala. At the same time I was also not against Ayyappa Jyothi," said Tushar.
The BDJS leader also informed that the party decided to attend programmes only if those are organised by the NDA.
He clarified that he doesn't know the people behind the Ayyappa Jyothi.
The two leaders claimed that BDJS has always been with the believers. Majority of the senior BJP leaders maintained a stoic silence on Tushar's action though.