Congress-JD(S) romantic' honeymoon will end after Lok Sabha polls: Jagadish Shettar
DECCAN CHRONICLE | KN Reddy
Published on: April 7, 2019 | Updated on: April 7, 2019
---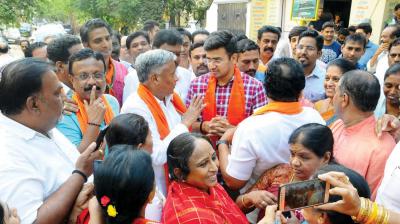 Kalaburagi: Likening the coalition government in the state to a "forced marriage between a boy and girl," senior BJP leader Jagadish Shettar predicted that it would not last after the Lok Sabha polls.
"It is said that a fight between a husband and wife lasts till they go to bed. But in the case of this coalition government, the fight has continued even nearly a year after marriage and the husband and wife are not ready to live together. This arrangement will not last long as the workers of the two parties have revolted against the convenient arrangement of their self-serving leaders. In Mandya, Mysuru, Tumakuru and other places, the JD(S) and Congress workers raised slogans in favour of Prime Minister Narenda Modi, which is an indication of the strong discontent among workers. This coalition government will be shattered into pieces once Prime Minister Narendra Modi once again assumes office and Mr B.S. Yeddyurappa will definitely become the Chief Minister," Mr Shettar stated during an interaction with the media here.
He ridiculed Chief Minister H.D. Kumaraswamy's statement that all regional parties thrived due to dynastic politics. "Mr Kumaraswamy should be ashamed of himself for making such a statement. Earlier the JD(S) was only an appa-makkala party. Now it has become appa-makkala-mommakkala mattu soseyandira (father-sons-grandsons and sisters-in law) party.People who are disgusted with this one-family dominance will definitely show them the door in this election", Mr Shettar remarked.
Referring to the Chief Minister's reported statement that he had advance information about the Pulwama attack, Mr Shettar termed it "cheap politics".
"Mr Kumaraswamy has committed an act of sedition by keeping the information to himself and not passing it on to the NIA," he commented.
Asserting that there was a Modi-tsunami" in the country, Mr Shettar observed that all opposition parties would be washed away. "The Mahaghatbhandan is already in tatters. Where are Mamta Banerjee, Kejriwal and Akhilesh Yadav who took part in Kumaraswamy's oath taking ceremony?. In Karnataka the BJP will win 22-24 seats and the NDA will get two-thirds majority", he declared. He questioned senior Congress leader Mallikarjun Kharge's contributions for the development of the region and alleged that Hyderabad-Karnataka has remained backward due to its neglect by Mr Kharge.
"Mr Kharge takes credit for the amendment of Article 371(J). He must acknowledge the support given by the BJP. Moreover there is little development of the region even after special status was conferred on it. I have information that more than 30,000 vacancies exist in H-K region, which have not been filled so far. I demand that the government bring out a white paper", Mr Shettar said.