Draft voters list released for Tamil Nadu local body polls
DECCAN CHRONICLE | DC Correspondent
Published on: October 4, 2019 | Updated on: October 4, 2019
---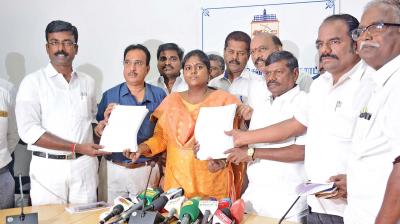 CHENNAI: The first signals heave emerged that the local body elections in Tamil Nadu are to be held sooner rather than later, with draft voters list released in all the district headquarters on Friday.
In Chennai, corporation commissioner (in-charge) R. Lalitha released the draft voters list. The total electorate is 57,97,652. There are 200 wards and 5,714 polling stations. The least number of voters are in 12th ward in Alandur at 2,921 and maximum voters are in Kodambakkam, ward 137, with 54,801 voters. The voters list will be kept open in all zonal offices for the public to verify.
In Tiruchy district, total electorate is 22, 45, 218 voters. The district rural development agency project director Mr. Sankar, released the voters list. In Tiruchy city corporation the total electorate is 7,46,417.
The draft electoral rolls for the local bodies in the districts of Pudukkottai, Tiruvarur, Karur, Ariyalur, Perambalur and Nagapattinam were released by their respective district collectors today, Ms. B. Uma Maheswari, T Anand, Mr. Anbazhagan, T.G. Vinay, V Santha and Praveen P. Nair.
In Coimbatore, corporation commissioner Mr. Sravan Kumar Jatavath released the voters list. The corporation has a total electorate of 14, 42,107 voters, is comprised of 100 wards and has 1,216 polling booths.