MK Stalin seeks CBI probe into smart city tenders
DECCAN CHRONICLE | DC Correspondent
Published on: September 1, 2018 | Updated on: September 1, 2018
---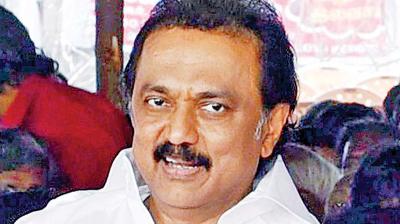 Chennai: DMK president M.K. Stalin urged the Centre to order CBI inquiry into the tender processes relating to smart city project across the state. In a statement on Saturday, Stalin hit back at the ruling AIADMK government and Velumani for threatening media, which is revealing corruption in the 'Smart City Tender' under Tamil Nadu Urban Finance and Infrastructure Development Corporation Ltd (TUFIDCO).
"The website of Acetech machinery Components India Company has shown that there was no work relating to smart city project so far. The fact remains that how the tender worth Rs 149 crores was given to such an inexperienced company." he questioned.
Wondering that the local administration minister was again keen on providing tender process with regard to 10 e-governances to the same company, the DMK president termed it 'height of corruption and misfortune of administration.
"Commissioner of Greater Chennai Corporation D. Karthikeyan was appointed as chairman and managing director (CMD) hastily. It is a norm that every tender should be given to those companies, which ask for minimum amount. However, in this case, the norm was violated," Stalin said.
Contracts of municipality works and LED had been given to the 'benamis' of minister, Stalin charged. "Contracts of fitting LED lights were given by GCC to benamis of Velumani's company at the cost of more than Rs 100 crore. As far as smart city is concerned, both state and center contribute 50 per cent of funds. However, why BJP at the center has not questioned about the corruption in the tender process," he questioned.
Stalin urged the government to set up a 'special inquiry committee' to probe Velumani and top officials, who were working hand in glove with him. The DMK president urged the Centre to order CBI inquiry into the tenders relating to smart city project across the state.