Hope history judges PV Narasimha Rao better: Pranab Mukherjee
DECCAN CHRONICLE | DC Correspondent
Published on: February 27, 2019 | Updated on: February 27, 2019
---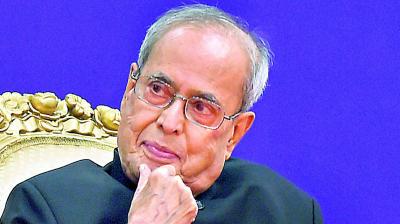 New Delhi: Former president Pranab Mukherjee and former prime minister Manmohan Singh on Wednesday hoped that history will judge P.V. Narasimha Rao in a better manner than it has done till now.
The two leaders were speaking at a function to award the first "P.V. Narasimha Rao National leadership and lifetime achievement award" to Singh at Teen Murti Bhawan. Mukherjee presented the award to Singh.
In his speech, Singh recalled how he did not take very seriously Rao's offer to be inducted in his cabinet as finance minister and said when he called him up, he told him that politicians make many promises and all promises do not fructify.
"I do feel I am honoured to participate in this award programme as it reminds the memory and contribution of that great son of India, P.V. Narasimha Rao ji, and I am quite sure that history will judge him in much better manner than we have done so in the contemporary period," said Mukherjee.
Singh too said, "I do sincerely believe that Narasimha Rao ji was a great son of our country. History will be much more kind to him than has been thus far. I am quite sure the history will record his immense contribution to the building of modern India".
Mukherjee said Singh has been chosen for the award because of the fact that as prime minister and finance minister he formed a team which laid the foundation of modern, vibrant and economically powerful India.
Singh said this award honours another "great son of India" and described Rao as a warm-hearted person.
He described Rao making him his finance minister as a "great act of kindness to me".
He recalled that P C Alexander, who was assisting Rao in forming the cabinet, met him and asked whether he would be ready to work with him as finance minister.
"I said I would be happy to do so provided the prime minister gave his full support in dealing with the difficult situation that our country was in matter of finance and balancing the economy," he said.