Lothkunta-Yapral road sinkhole due to pipe burst
DECCAN CHRONICLE | DC Correspondent
Published on: September 25, 2019 | Updated on: September 25, 2019
---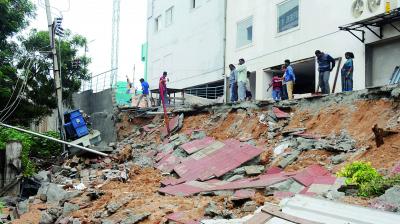 Hyderabad: Thanks to the heavy downpour on Tuesday, the city's public infrastructure has taken quite a beating. The Lothkunta-Yapral road, most notably, has developed a massive sinkhole and has caused panic among local residents.
The Local Military Authority on Wednesday rushed in to cover the large crater that has been hampering movement of vehicles.
"I usually ferry my passengers from Rashtrapathi Nilayam towards Tirumalgherry, but looking at the size of the sinkhole many people are not stepping out," said A. Raju a share auto driver.
The Hyderabad Defence PRO Twitter handle on Wednesday said: "Road being repaired on priority by Army personnel. Road will be closed for 24 hours on Sept. 25 for repairs. Assistance from State Traffic Police sought to divert the traffic."
Officials attributed the cause of the road cave in to a pipeline burst. "A pipeline is present directly under the spot where the road fell in and it seems like the heavy downpour yesterday may have been too much for the pipeline to handle," said a traffic constable.