Private firms to train SC/ST entrepreneurs
DECCAN CHRONICLE | shyam sundar vattam
Published on: July 21, 2018 | Updated on: July 21, 2018
---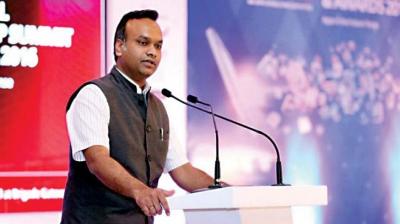 Bengaluru: In a departure from the practice of providing financial help to beneficiaries under various schemes to start businesses, the department of social welfare plans to tie up with private companies to share their experience and expertise with would-be entrepreneurs.
Social Welfare Minister Priyank Kharge says the modalities are being worked out to involve private companies in training those from the scheduled castes and tribes in their areas of interest before they venture into business.
Presently, a beneficiary, on receiving financial help from the department, starts a petty shop without the know- how to run it, risking its future. For instance, the department gives deserving SC and ST candidates financial help to buy a car, but without the required training in driving and running a business, they may be of little use, he points out.
"But if they undergo training by companies on how to do business the right way and how to behave with customers, they can do better. Once trained, they could be attached to leading cab operators. With this, the private cab operators would get good drivers and the beneficiaries could become self reliant," he told Deccan Chronicle.
The Minister added that the framework of the scheme was being prepared and once ready, would be presented to companies interested in joining hands with the government.
"Already, many companies have come forward to be part of this training programme. The whole idea of this exercise is to involve private companies/ individuals in government programmes and help the beneficiaries better," he said.