Hyderabad: 6-year-old lured with biscuits, kidnapped
DECCAN CHRONICLE | jayendra chaithanya
Published on: August 20, 2018 | Updated on: August 20, 2018
---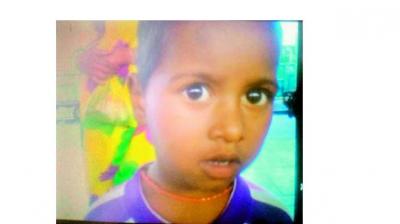 Hyderabad: A six-year-old boy was kidnapped by two unidentified women from Secunderabad railway station on Monday morning. The women did not even touch the boy's younger sister who was also sitting beside him when their mother went to get food for her kids.
Four special teams have been formed by the government railway police to trace and rescue the kidnapped child. The last seen location of the child was near the Regional Passport Office when the suspects were trying to bargain with an auto -rickshaw driver over the fare. The incident took place at 8 am when Sanju, 32, went out of the railway station to buy food for her two children Anjali, 3, and Ayush, 6.
Sanju, a native of Mannapur in Uttar Pradesh, came to the city about 15 days ago seeking a livelihood, along with her children. Her husband, Dileep, died recently due to ill-health, and she came here as her brother-in-law lives at Falaknuma and works as a labourer.
The woman initially used to beg at Bandlaguda area in Rajendranagar, but was hired as a sweeper with the the help of locals.
On Sunday night, Sanju came to Secunderabad railway station and was waiting for her cousin to come, so that she could leave for Kanpur in the Danapur Express.
GRP Superintendent G. Ashok Kumar said "At around 8 am, Sanju left her two kids at the waiting hall and went outside to get some food. When she returned in a few minutes, her son was missing. Anjali told Sanju that two women came to her and Ayush and offered biscuits to the latter, asking him to go with them."
The woman after searching for her son in the station premises approached the GRP and lodged a complaint.
"On verification of the footage of the CCTV cameras installed in the railway station, two women suspects were identified kidnapping the boy. One woman was wearing a blue coloured saree and another was in pink coloured leggings with a white top that had black polka dots. They rushed outside the station with Ayush and boarded a bus at Alpha Hotel. They immediately got down and walked for some time. They were last seen talking to an auto-rickshaw driver, but however, they did not board the vehicle," said Superintendent Ashok Kumar.
"Their counterparts in the state, besides the officials of RTC and railways, have been alerted about the kidnap," he said.