Karnataka: Papers filed, battle warms up for Nanjangud, Gundlupet
DECCAN CHRONICLE | shilpa p
Published on: March 21, 2017 | Updated on: March 21, 2017
---
Mysuru: The stage is set for the Nanjangud byelection with veteran leader, V Srinivasprasad, 69, filing his nomination as the BJP's candidate at the tahsildar's office in the constituency and Mr Kalale Keshavmurthy, 60, filing his on behalf of the Congress on Monday.
Later addressing a public meeting in Nanjangud, state BJP president B S Yeddyurappa said that the two by-elections in the state would be an indication of things to come in the 2018 elections.
"I am sure people will put an end to the Tughlaq darbar of Mr Siddaramaiah and elect Bharatiya Janata Party candidates in the byelections. Mr Siddaramaiah insulted Mr Prasad by dropping him from the cabinet, but I am sure the people of Nanjangud will restore his dignity," he added.
Mr Prasad who arrived in an open vehicle accompanied by Mr Yeddyurappa, and other BJP leaders, besides over 7000 of his supporters in a clear show of strength, vowed to defeat the Congress to revenge his unceremonious exit from the state cabinet at the fag end of his political career. He offered special poojas at the Chinthamani Ganapathi temple before filing his nomination, "This is a fight between my self-respect and the Congress's dictatorship and arrogance. I am sure self respect will win," he asserted.
Mr Kalale Keshavmurthy, for his part, arrived in a procession with over 6000 of his supporters and several Congress leaders. He later offered a pooja at the Chinthamani Ganapathi temple in Nanjangud, before filing his nomination.
Congress candidate Geetha Mahadevprasad and BJP candidate C.S. Niranjankumar filed their nomination papers for Gundlupet seat on Monday, accompanied by a large number of their supporters.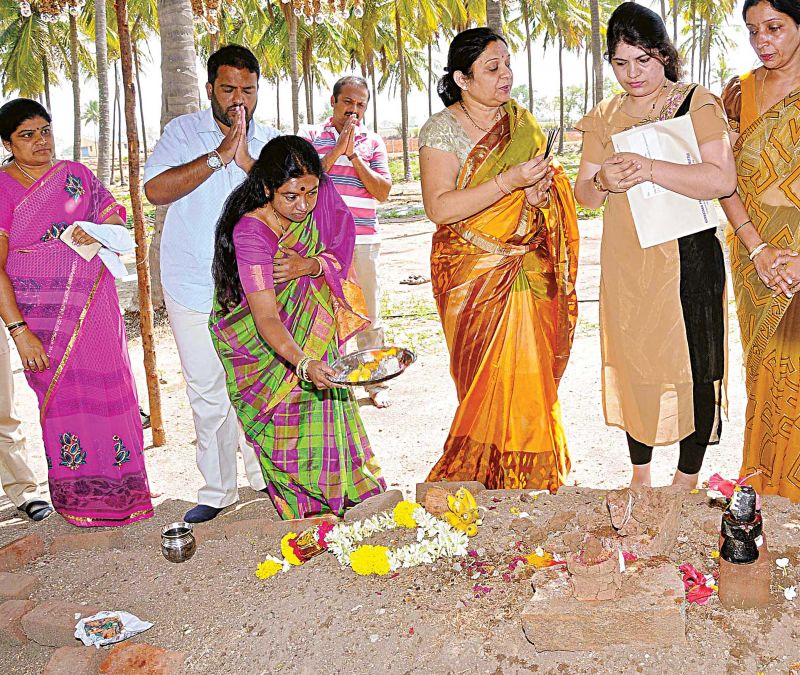 Congress candidate for Gundlupet seat Geetha Prasad offers prayers at the samadhi of her husband Mahadevprasad before filing her papers.
Ms Geetha, widow of minister Mahadevprasad, who arrived along with Congress leaders U.T. Khader and Satish Jarkiholi, claimed she had received a good response from people and was confident that the good work done by her husband would ensure victory.