Chennai lags in sanitation as aim to build public toilets fails to take off
DECCAN CHRONICLE | KV Navya
Published on: November 19, 2017 | Updated on: November 19, 2017
---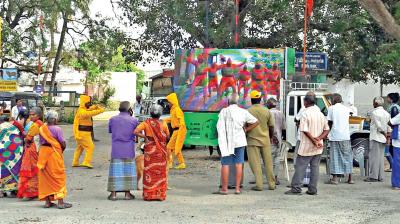 Chennai: Each year, "sanitation" is spoken about on one day. Just as the topic fades away for the rest of the year, so do plans to improve it. This year's theme for World Toilet Day observed on November 19 is "Faecal sludge management and wastewater". Coincidentally, this year Chennai was ranked at 235th position among the cleanest cities in India in Swacch Survekshann Survey, with solid waste management and sanitation being its prime problems.
Installing bio-toilets for better sanitation in the city have turned futile due to poor maintenance. The number of bio-toilets is not sufficient to provide for the public utility of such large population of the city, residents feel.
An allocation of Rs 2,000 crore was made for infrastructure development in the city, out of which, nearly Rs 60 crore was utilised to build bio-toilets at 350 locations across the city. Namma Toilet, Saraplast and Wockhardt undertook the contract for building them. E-toilets, bio-toilets, and mobile toilets were installed at around 350 locations across the metropolis to improve the sanitation standards, but as many of them turned non-functional, residents say that maintenance has become a tough task for the civic body.
With numerous community and pre-fabricated toilets, built across the state, Tamil Nadu still remains devoid of proper sanitation. The Tamil Nadu Sanitation Support Programme (TNUSSP) led by Indian Institute of Human Settlements (IIHS) conducted a survey on these lines recently and found that many times, septic tanks are not constructed properly.
Senior specialist, IIHS, Asma, says most of the masons do not have proper knowledge of building tanks, as there is no formal training. "They join as masons at a young age and learn things through observation. So, most masons' idea of a septic tank is to build a pit in the ground," she said. TNUSSP had conducted statewide mason training programmes for improving the state of the toilets.
Asma added that inadequate sanitation doesn't just hurt children, women and girls, but also affects the society at large by causing diseases, polluting water and land, and contributing to productivity losses. According to her, it has caused India considerable economic losses, equivalent to 6.4 percent of India's GDP or Rs 2.4 lakh crore, in the year 2006.
What is TNUSSP?
The Tamil Nadu Urban Sanitation Support Programme, launched in November 2015 supports the Government of Tamil Nadu and select cities in making improvements along the entire urban sanitation value chain. It aims at eliminating open defecation, improve sanitation services and reduce the untreated faecal matter in the environment by safe containment and treatment.
What is faecal sludge?
Faecal sludge comprises liquid and semi-liquid contents of the pits and vaults accumulating in on-site sanitation installations, namely unsewered public and private latrines or toilets, aqua privies and septic tanks. These liquids are normally several times more concentrated in suspended and dissolved solids than wastewater.
What is faecal sludge management?
FS management deals with on-site sanitation systems, while wastewater management is concerned with sewered sanitation. FS may be treated in separate treatment works or co-treated with sludges produced in wastewater treatment plants.
Plans of TNUSSP for 2017-18
Intensive awareness campaigns in the cities and other parts through social media.
Get the private sector involved in the construction of faecal sludge treatment plants.
Talking to state government to see an increase in treatment facilities.
Dumping preventing them from open operators and Regulating desludging.
Continue mason training programs across the state.
—Kavita Wankhade, team leader, TNUSSP